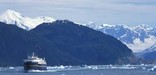 There are a variety of choices when it comes to camping in the state of Alaska. There is beautiful scenery at every turn, and historical places to be explored. Alaska's campgrounds within the many state parks offer the best of both worlds; you get well-maintained campgrounds located in some of the most beautiful and historical areas in Alaska. Throughout the state you can explore many different parks and the campgrounds inside them.
Byers Lake Campground
Located on Byers Lake under a beautiful mountain ridge, you can catch glimpses of Mt. McKinley from your campsites at this campground in the Denali State Park. The 66 campsites here come equipped with the basics and access to fishing and boating are available.
The grounds are well maintained by the park and trails are scattered around the campground too. There is a moderate nightly fee charged and an RV is required. Campers can enjoy relaxing on the lake while gazing up at the delicate snow covered mountains at this beautiful location.
Eagle River Campground
Located within Chugach State Park, the third largest state park in the United States, Eagle River Campground offers its campers a variety of activities to choose from. Whether you want to go white water rafting, fishing, or hiking, the facilities to do so can be found here. Campground guides are also available to answer any questions that you may have during your stay.
For a fee of $15 per night, you have access to basic amenities such as flush toilets, water, picnic tables, and a dump station. Although the amenities are not first class, the views and surrounding wildlife more than make up for it.
Chilkoot Lake State Recreation Site
This 80-site campground is located within the Chilkoot State Park, and rests at the outlet of the Chilkoot Lake into the Chilkoot River. Because of its location, from June until October this campground offers some of the best salmon fishing in Alaska. With the large amount of salmon also come large amounts of bears; so be sure to brush up on your bear behavior before booking a stay here.
Basic amenities are included for a nominal fee and firewood is available at an additional cost as well. There are hiking trails and boat access, making this an ideal campground for an avid fisherman.
Kachemak Bay State Park
Holding the record for being the first state park in Alaska the Kachecmak Bay State Park is also the only wilderness park in the state. Home to many marine life creatures, visitors can often observe otters, seals, and whales, as well as land animals like moose, bears, and wolves. Camping is allowed in most areas of the state park, and although there is not a strict campground location, there are areas with fireplaces, outhouses, tent platforms, and information set up throughout the area.
Cabins are available for rent in several locations of the park as well, and come equipped with quite a few amenities at prices ranging from $50-$65 nightly. With its roving wildlife and beautiful land this state park's camping locations offer campers opportunities for hiking, fishing, and boating.
Alaska is a mysterious land that has been largely untouched in this modern world. While staying at Alaska's campgrounds within state parks you get to experience the best that this beautiful area has to offer, at a reasonable price, and in a convenient location.
Statewide
ALASKA! - A Photo Journey
Email
Join us on our trek North to ALASKA! See the animals we encountered, a tour of Denali National Park, the flowers, the mountains, a trip to see the glaciers calving.....and MORE....over 2300 photos!
Anchorage
Anchorage Ship Creek RV Park
Email









Just a short walk to downtown Anchorage for shopping, dining and museums. All sites have full hookups. Open May 1 through Sept. 30. - (888) 778-7700
Chicken

Chicken Gold Camp & Outpost
Email










WiFi RV park with cabins, showers, café, espresso/smoothie bar, gift shop, gold panning, recreational mining, historical dredge tour and kayaking. National Historic Site. - 907-235-6396 (msg)

Homer

Homer Ocean Charters
Email
Alaska Dream Vacations Begin Here! From high adventure to leisurely sightseeing - (800) 426-6212

Skagway

Skagway Mountain View RV Park
Email







Located in a wooded setting within a short walking distance to the downtown Historic District. - (888) 778-7700


---
Anchor Point

Eagle Crest RV Park - (907) 235-6851
Kyllonen's RV Park - (888) 848-2589
Anchorage

Centennial Park Campground - (907) 343-6986
Creekwood Inn & RV Park - (907) 258-6006
Golden Nugget Camper Park - (800) 449-2012
Bettles

Crevice Creek Ranch - (907) 692-5242
Cantwell

Cantwell RV Park - (800) 940-2210
Coffman Cove

Oceanview RV Park / Campground - (907) 329-2015
Copper Center

Kenny Lake Mercantile & RV - (907) 822-3313
King for a Day Campground & Charters - (907) 822-3092
Klutina Salmon Charters and Campground - (480) 905-9199
Craig

Rain Country RV Park - (907) 826-3633
Delta Junction

Smith's Green Acres - (800) 895-4369
Denali National Park

Denali Grizzly Bear Cabins & Campground - (866) 583-2696
Denali RV Park & Motel - (907) 683-1500
Denali Rainbow Village & RV Park - (907) 683-7777
Fairbanks

Chena Hot Springs - (907) 452-7867
Chena Marina RV Park - (907) 479-GOLD
Chena River Wayside - (907) 452-7275
Norlite Campground - (907) 474-0206
North Pole RV and Campground - (907) 488-2486
River's Edge RV Park - (907) 474-0286
Glennallen

Moose Horn RV Park - (907) 822-3953
Northern Nights RV Campground - (907) 822-3199
Tolsona Wilderness Campground - (907) 822-3865
Haines

Haines Hitch-Up RV Park - (907) 766-2882
Port Chilkoot Camper Park - (800) 542-6363
Salmon Run Adventures Campground - (907) 766-3240
Healy

McKinley RV & Campground - (800) 478-2562
Homer

Driftwood Inn RV Park - (800) 478-8019
Heritage RV Park - (907) 226-4500
Houston

Riverside Camper Park - (907) 892-9020
Hyder

Camp Run-A-Muck - (888) 393-1199
Juneau

Spruce Meadow RV Park - (907) 789-1990
Kenai

Beluga Lookout RV Park - (907) 283-5999
Stedi RV Park - (907) 283-2056
Ketchikan

Clover Pass Resort & RV Park - (800) 410-2234
Lake Louise

Lake Louise State Recreational Area - (907) 278-7575
Ninilchik

Country Boy Campground - (907) 567-3396
D & M RV Park & Cabins - (800) 479-7357
Deep Creek View Campground - (888) 425-4288
Heavenly Sight - (907) 567-7371
Reel Em Inn, Inc - (800) 447-7335
North Pole

Santaland RV Park - (888) 488-9123
Palmer

Bestview RV and Mobilehome Park - (907) 745-7400
Fox Run RV Campground - (907) 745-6120
Grand View RV Park and Cafe - (907) 746-4480
Homestead RV Campground - (800) 478-3570
Mountain View RV Park - (800) 264-4582
Portage

Portage Valley Cabins & RV Park - (907) 783-3111
Salana

Grizzly Lake Campground - (907) 822-5214
Salcha

Lazy Moose RV Park & Campground - (907) 488-8141
Seward

Bear Creek RV Park - (877) 924-5725
City of Seward Public Campgrounds - (907) 224-4055
Stoney Creek RV Park - (907) 224-6465
Sterling

Cast Away Riverside RV Park & Cabins - (907) 262-7219
Real Alaskan Cabins & RV Park - (907) 262-6077
Sutton

River's Edge Recreation Park - (907) 746-2267
Talkeetna

Talkeetna Camper Park - (907) 733-2693
Tok

Sourdough Campground - (907) 883-5543
Tok RV Village - (907) 883-5877
Valdez

Bayside RV Park - (907) 835-4425
Bear Creek Cabins & RV Park - (888) 649-2327
Eagle's Rest RV Park - (800) 553-7275
Wasilla

Alaskan Trails RV & Camper Park, LLC - (907) 376-5504
Iceworm RV Park & Country Store - (907) 892-8200
Willow

Mat-Su RV Park and Campground - (907) 495-6300
Pioneer Lodge - (907) 495-1000
Wrangell

Shoemaker Bay RV Park - (800) 367-9745