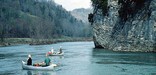 Whatever you're looking for in the way of a camping adventure, you're likely to find it in one of the many campgrounds located in the small southern state of Arkansas. From trout fishing to diamond mining to nature hiking, Arkansas' campgrounds offer a wide variety of activities to enjoy.
Choose a rustic tent-pitching campsite or one that offers modern conveniences such as water, electricity, and sewer hookups. There are National Forest campgrounds, parks developed by the U.S. Army Corps of Engineers, Arkansas State Park and Arkansas National Park campgrounds, as well as several privately owned campsites across the state.
Arkansas' landscape boasts 600,000 acres of lakes, three national forests, and 9,000 miles of rivers and streams and is located at the foothills of the beautiful Ozark Mountains. With such an impressive wealth of natural resources, it's easy to see why Arkansas is known as The Natural State and considered by many to be a camper's paradise.
If you want to enjoy some fishing or water skiing during your Arkansas camping adventure, your best bet is to visit one of the campgrounds developed by the U.S. Army Corps of Engineers. These sites are more geared to water sports activities and most provide boat launching ramps.
One of the most popular Corps campgrounds in the state is the Greers Ferry Lake and Little Red River area located in north-central Arkansas. Around the shores of Greers Ferry Lake you'll find 1200 campsites located in 13 different parks. This clean, clear lake provides 40,000 acres of water surface and is stocked with every game fish native to Arkansas.
Enjoy fishing for rainbow trout, channel catfish, bream, and white and largemouth bass in this beautiful lake where record catches are common. Greers Ferry Lake boasts the world record for both walleye and hybrid striper, and fishermen come from all over to try their luck at breaking those records.
In addition to superb fishing, campers at Greers Ferry Lake can enjoy a host of other fun activities. Water sports include swimming, boating, water skiing, and scuba diving. Hike along a nature trail that leads to the top of Sugar Loaf Mountain to experience a spectacular view of the surrounding Ozark landscape.
A tour of the rainbow trout hatchery is fun and educational for both children and adults. The hatchery is operated by the U.S. Fish and Wildlife Service and provides rainbow trout to stock the lake and Little Red River.
Some of the most beautiful campgrounds in Arkansas are those found in the state parks. Of the 52 Arkansas state parks, 28 include camping facilities. Some are combination RV/tent sites.
The majority of the state park campgrounds offer water and electric hookups, picnic facilities, grills, and lantern hangers. Some include modern bathhouses with hot showers and flush toilets. Dump stations are also available. Pets are welcome in the Arkansas state park campgrounds, but must be kept on a leash or restrained in some other way.
The Crater of Diamonds State Park in Arkansas offers one of the most unique camping experiences in the entire world. Campers are invited to prospect for diamonds in a 37-acre plowed field which is the only diamond-producing site in the world open to the public.
Diamonds of all colors are found at Crater of Diamonds, but the most common are white, brown, and yellow. The park staff is available to help visitors identify their finds. The fact that prospectors are allowed to keep any gems they find, regardless of their value, adds to the thrill of this one-of-a-kind adventure.
The camping facilities at Crater of Diamonds State Park include 59 standard campsites. Picnic sites, restrooms, laundry facilities, a café, and hiking trails are also available in the park.
Other popular camping destinations in Arkansas include Lake Ouachita State Park, the Ozark National Forest, Norfork Lake, Hot Springs National Park, and Petit Jean State Park. Fees vary according to the season and from site to site, but are considered very affordable for most pocketbooks.
Camping is an excellent way to enjoy the outdoors and escape the grind of day to day life. Whether you're planning an overnight getaway or a week-long outing, you'll find the perfect spot amidst the natural beauty and adventure found in the Arkansas campgrounds.
Batesville

Speedway RV Park - (870) 251-1008
Clarksville

Eagles Landing RV Park - (479) 754-3476
Clinton

Whispering Pines - (501) 745-4291
Cotter

White River Campground & Cottages - (870) 453-2299
Dover

Hillbilly Haven RV Park - (479) 293-4344
Eureka Springs

Beaver Dam Cottages & RV Park - (501) 253-6196
Eureka Springs KOA - (501) 253-8036
Hidden Cove - (501) 253-2939
Keller's Country Dorm & RV Park - (501) 253-8418
Wanderlust RV Park - (800) 253-7385
Fairfield Bay

Golden Pond RV Park - (501) 723-8212
Fayetteville

Hart's RV Park - (501) 846-3653
Winn Creek RV Retreat - (479) 839-4322
Greenbrier

Cadron Creek Outfitters - (501) 679-5050
Hampton

Silver Eagle RV Campground - (870) 798-3798
Harrison

Parkers RV Parks Inc. - (888) 590-2267
Shady Okas Campground & RV Park - (870) 743-2343
Horseshoe Bend

New Horizon RV Park and Campground - (870) 670-5924
Hot Springs

Bartee Meadow Campground - (501) 262-9100
Clearwater Resort - (501) 767-0707
Hill's Lake Escape - (501) 760-2659
Hot Springs National Park KOA - (501) 624-5912
Young's Lakeshore RV Resort - (800) 470-7875
Jacksonville

Tall Pines RV Park - (501) 982-0090
Jasper

Hog Heaven RV-Park - (870) 428-5540
Yanasochee Campground - (870) 446-2905
Lake Village

Pecan Grove RV Park - (870) 265-3005
Lowell

Green Country RV Park - (888) 980-8850
Mammoth Spring

Mammoth Spring Campground - (870) 625-3006
Mena

Camp Wolfcreek Springs - (479) 394-6722
Shadow Mountain RV Park & Campground - (479) 394-6099
Monticello

J & S RV Park - (870) 367-1422
Lakeview RV Park - (870) 460-9920
Morrilton

Lewisburg Bay RV Park - (501) 354-5601
Mount Ida

Marilyn's RV Park - (870) 867-0168
Mountain Home

Oak Tree RV Park - (870) 425-7004
Promise Land Resort & RV Parking - (888) 495-2929
White Buffalo Resort and RV Park - (870) 425-8555
Mountain View

Blue Sky RV Park - (870) 269-8132
Ozark RV Park - (870) 269-4315
North Little Rock

Crystal Hill RV Park - (501) 771-4496
Little Rock North KOA - (501) 758-4598
Parthenon

Yanasochee Campground - (870) 446-2905
Perryville

Coffee Creek & Resort Landing - (501) 889-2745
Rogers

Beaver Lake Hide-A-Way Campground - (479) 925-1333
Russellville

Ivys Cove RV Retreat - (479) 967-3030
Shirley

Lazy M Ranch - (501) 723-4641
St. Joe

Lum's Mountain Campground - (870) 439-2678
Texarkana

Sterling Crest RV Park - (903) 793-2666
Texarkana KOA - (870) 772-0751
Tumbling Shoals

Lakeside Market & RV Park - (870) 307-4020
Van Buren

Park Ridge RV Campground - (501) 410-GORV
West Helena

Wycamp Trailer Park - (870) 572-1395
Yellville

Sherwood Forest Campground - (870) 449-3452