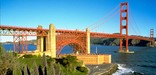 It's not about tie-dye and hippie dances all the time, but camping in California can give a non-resident a real sense of what California is all about. And what's that, exactly? Wonderful food, beautiful scenery, friendly people and hangin' loose.
If you decide to camp in California, you have many choices. You can camp in the mountains, such as in Yosemite National Park, or in Big Trees State Park, known for its, well, huge trees. You might head to the beach and camp at the always popular Julia Pfeiffer State Park at Big Sur. You might camp along the Santa Cruz shoreline, or in the more congested San Diego. Perhaps inland is your preference; you can camp in cities and in regional parks near rivers. There are many choices.
What you will find at nearly all of them is some sense of the quintessential California experience. Near Julia Pfeiffer State Park for example, you might find yourself on a Saturday morning at a farmer's market high on a cliff overlooking the ocean. There you might try organic produce of varieties you've never heard before. While camping at one of the campgrounds in Santa Cruz, you might spend your mornings exploring the mountainous surrounding terrain and the evenings dancing on the beach just off the boardwalk.
Wherever you camp in California you are likely to meet visitors from other areas and many international travelers as well. But even so, you will also find that the feel of California permeates, either through the campground management, through the food you are able to buy in local stores, or even in your own menu. In California for example, campers often eschew the basic hot dogs and hamburgers and create grilled chicken Caesar salads for dinner and home fries with crème fraîche for breakfast. Your own fried eggs and toast might pale in comparison.
Throughout your experience, you'll likely find that the people are what make California camping different. When you meet the locals at the campgrounds, they'll regale you with stories about things that only happen in California, like being evacuated from campgrounds due to forest fires or unexpectedly coming across a nudist sunbathing along the river. They'll likely welcome you into their RV or tent site and offer tips for getting the most out of your camping experience. The campground hosts are often natives who can help you find just the right river to fish in, the perfect trail to hike, or the best road to get to your next camping site.
No matter where you camp in California, you are sure to find something new and different to explore.
Julian
Butterfield Ranch Resort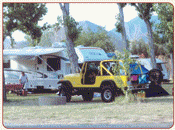 Email







Under new ownership! Located in the high desert, our Ranch will please any desert-loving camper. We offer several amenities to make your stay enjoyable. - (760) 765-1463
---
Bakersfield

Bear Mountain RV Resort
Email









New resort in a peaceful, rural setting. 135 big rig friendly sites. All sites are pull-thrus. Satelite TV & FREE WIFI. Easy on/off freeway access. - (661) 834-3811


---
Grand Terrace

Terrace Village RV Park
Email








Terrace Village RV Park is the California "Inland Empire's" finest full-service RV park, offering excellent facilities, sites and amenities and is convenient to nearby attractions, including Knott's Berry Farm, Disneyland, The Palm Springs Tram, San Diego Zoo/San Diego Wild Animal Park, Temecula Wineries, Lake Arrowhead, the Route 66 Event and the Fontana Speedway. - (800) 427-2441


---
Lewiston

Trinity River Resort
Email




Large grassy flat down to the Trinity River. The best fishing area. Easy access to Trinity Alps - Lakes - (530) 778-3791


---
Lodi

Flag City RV Resort
Email

- 180 SITES














Conveniently located in the Central Valley Wine Country of california. A warm, friendly staff ready to serve you. Daily, weekly, biweekly, extended stay. - (209) 339-8300


---
Orleans



Klamath Riverside RV Park & Campground
Email




Situated on the west bank of the mighty Klamath, our park is a popular destination for salmon and steelhead fishing, hunting, hiking, cyclists, gold panners, wild life and bird watchers, rafters and kayakers. - (800) 627-9779


---
Acampo

Mokelumne Beach Resort - (209) 333-0340
Acton

Fiesta Cypress RV Resort - (661) 268-1214
Acton

Californian RV Resort - (888) 787-8386
Aguanga

Jojoba Hills SKP Resort Inc. - (909) 767-9130
Oak Springs RV Resort - (888) 787-7275
Outdoor Resorts Rancho California - (909) 767-0848
Anaheim

Anaheim Harbor RV Park - (714) 535-6495
Anaheim Resort RV Park - (714) 774-3860
Anaheim RV Village - (866) 991-0103
Anaheim Vacation Park - (800) 772-3636
Canyon RV Park - (714) 637-0210
Angels Camp

Angels Camp RV and Camping Resort - (888) 398-0404
Anza

Anza RV Resort - (858) 456-5111
Kamp-Anza Kampground - (888) 763-4819
Arcata

Mad River Rapids RV Park - (800) 822-7776
Sandpiper Park - (707) 839-2877
Aromas

Monterey Vacation RV Park - (831) 726-9118
Auburn

Auburn Gold Country Rv Park - (530) 885-0990
Azusa

Camp Williams Resort & Campground - (626) 910-1126
Follows Camp - (626) 910-1100
Bakersfield

A Country RV Park - (661) 363-6412
Bakersfield Palms RV Resort - (661) 399-3107
Bakersfield RV Park - (800) 562-1633
Bakersfield RV Resort - (661) 833-9998
Bakersfield Trav-L-Park - (800) 962-4546
Castle Estates RV Park - (661) 327-3710
Orange Grove RV Park - (800) 553-7126
Rosedale Village Campland - (661) 589-0593
Southland RV Park - (661) 834-1134
Banning

Pine Ranch RV Park - (909) 849-7513
Bass Lake

Bass Lake Recreational Resort - (209) 658-6378
Beaumont

Country Hills RV Park - (800) 203-5662
Bethel Island

Lundborg Landing - (925) 684-9351
Sugar Barge RV Park And Marina - (800)799-4100
Big Bar

Del Loma RV Park & Campground - (800)839-0194
Grovers' Gulch - (530) 623-4203
Riverside Wilderness - (530) 623-4203
Big River

Big River RV Park - (760) 665-9359
Big Sur

Ventana Big Sur Campground - (831) 667-2712
Borrego Springs

Leapin' Lizard RV Ranch - (760) 767-4526
Palm Canyon Resort - (800) 242-0044
Bradley

Lake San Antonio - (831) 472-2311
Bridgeport

Bridgeport Reservoir Rec Area - (775) 932-7001
Paradise Shores RV Park - (760) 932-7735
Browns Valley

Sycamore Ranch RV Park & Campground - (800) 834-1190
Burney

Burney Falls Trailer Resort - (530) 335-2781
California Hot Springs

Quail Valley RV Park - (661) 548-6299
Cambria

Connelly's Rod and Reel Trailer Park - (805) 927-3501
Camp Connell

Golden Pines RV Resort - (209) 795-2820
Campo

Lake Morena RV Park - (619) 478-5677
Camptonville

Moonshine Campground - (916) 288-3585
Willow Creek Campground RV Park - (530) 288-0646
Canyon Dam

Forest Park RV Spaces - (775) 849-0557
Carmel

Carmel by the River RV Park - (831) 624-9329
Saddle Mountain Recreation Park - (831) 624-1617
Castaic

Castaic Lake RV Park - (661) 257-3340
Cathedral City

Outdoor Resorts Palm Springs - (800) 843-3131
Chicago Park

Peninsula Camping & Boating Resort -(530) 477-9413
Chico

Almond Tree RV Park - (530) 899-1271
Mountain View Mobile Acres - (916) 443-5670
Chula Vista

Chula Vista RV Resort - (800) 770-2878
San Diego Metropolitan KOA - (800) 762-5267
Clearlake

Albatross Mobile & RV Park - (707) 994-1194
Funtime RV Park & Watersports - (707) 994-6267
Clio

Clio's Rivers Edge RV Park - (530) 836-2375
Cloverdale

Cloverdale Wine Country KOA Camping Resort - (707) 894-3337
Coarsegold

Yosemite South-Coarsegold Ranch - (559) 683-7855
Cobb

Beaver Creek RV Park & Campground - (707) 928-4322
Pine Grove Resort - (707) 928-5222
Colfax

Long Ravine Campground - (530) 346-6166
Orchard Springs Campground - (530) 346-2212
Coloma

Coloma Resort - (800) 238-2298
Columbia

49er RV Ranch - (209) 532-4978
Marble Quarry RV Park - (209) 532-9539
Colusa

Lovey's Landing - (530) 696-2449
Terhel Farms Mobile Home Park - (530) 458-5855
Corning

Heritage RV Park - (530) 824-6130
Woodson Bridge RV Park - (530) 839-2151
Corona

Glen Eden Sun Club - (909) 277-4650
Glen Ivy RV Park - (800) 628-9044
Crescent City

Crescent City Redwoods KOA - (800) 562-5754
Ramblin' Rose RV Resort - (707) 487-4831
Sunset Harbor RV Park - (707) 464-3423
Death Valley

Shoshone Campground & RV Park - (760) 852-4224
Desert Hot Springs

Caliente Springs - (800) 800-9330
Desert Oasis MH & RV Resort - (310) 546-7593
Desert Springs Spa - (760) 329-1384
Holmes Hot Springs MH & RV Park - (760) 251-5189
Sam's Family Spa / Hot Water Resort - (760) 329-6457
Sky Valley Resort - (760) 329-2909
Dobbins

Lake Francis Resort - (530) 692-1700
Douglas City

Trinity Island Resort - (916) 623-5798
Duncan Mills

Duncans Mills Camping Club - (707) 865-2573
Dunlap

Kings Canyon Mobile Home & Rv Park - (559) 338-2350
Dunnigan

Campers Inn RV and Golf Resort - (800) 794-6533
Earp

Emerald Cove RV Resort - (800) 628-8424
El Cajon

Circle RV Ranch - (858) 456-9201
Oak Creek RV Resort - (800) 365-1274
Rancho Los Coches RV Park - (619) 443-2025
Vacationer RV Park - (619) 442-0904
El Centro

Rio Bend RV Resort Ranch - (760) 352-7061
Sunbeam Lake RV Resort - (760) 352-7154
Elk Grove

Laguna Village RV Park - (916) 423-4078
Escondido

All Seasons RV Park - (760) 749-2982
Escondido RV Resort - (800) 331-3556
Etna

Mountain Village RV Park - (877) 386-2787
Fair Oaks

Capitol West RV and MH Park - (916) 371-6671
Forestville

River Bend Resort - (707) 887-7662
Fort Bragg

Hat's Rest - (650) 341-3688
River's Edge Hideout - (707) 964-1064
Westport Beach RV & Camping - (707) 964-2964
Fresno

Fresno Mobile Home and RV - (559) 264-3122
Garberville

Benbow Valley RV Resort and Golf Course - (877) BENBOWRV
Gilroy

Gilroy Garlic USA RV Park - (408) 848-8081
Glenhaven

Lake Place Resort - (707) 998-3331
Graeagle

Feather River RV & Tent Park - (888) 836-2183
Sierra Springs Trailer Resort - (530) 836-2747
Grass Valley

Nevada County Fairgrounds RV - (530) 273-6217
Peninsula Campground & Boating Resort on Rollins Lake - (866) 469-2267
Greeley Hill

Yosemite Westlake Campground & RV Park - (209) 878-3847
Greenbrae

Golden Gate Trailer Court - (415) 924-0683
Marin Park, Inc. - (888) 461-5199
Greenville

Round Valley Lake Resort - (530) 258-7751
Gridley

Gridley Inn & RV Park - (530) 846-4520
Groveland

Yosemite Lakes RV Park - (209) 962-0100
Yosemite Ridge Resort - (800) 706-3009
Grover Beach

Le Sage Riviera - (805) 489-5506
Gualala

Anchor Bay Campground - (707) 884-4222
Happy Camp

Elk Creek Campground and RV Park - (530) 493-2208
Hat Creek

Hat Creek Fishcamp At 5D Ranch - (530) 335-4357
Rancheria RV Park - (530) 335-7418
Hemet

Casa del Sol RV Resort - (888) 925-2516
Mountain Valley RV Park - (800) 926-5593
Hesperia

Desert Willow RV Resort - (760) 949-0377
Hollister

Casa De Fruta RV Orchard Resort - (800) 548-3813
Hope Valley

Hope Valley Resort - (800) 423-9949
Hornbrook

Blue Herron RV Park - (530) 475-3270
Huntington Beach

Huntington By The Sea RV Resort - (800) 439-3486
Idyllwild

Royal Pines Mobile Estates - (909) 656-2691
Indio

Desert Lakes RV Resort - (760) 415-1910
Fiesta RV Park - (760) 342-2345
Outdoor Resorts Motorcoach Resort & Spa - (760) 775-7255
Shadow Hills Rv Resort - (760) 360-4040
Inyokern

El Solana RV & Mobile Home Park - (760) 377-4716
Ione

Camanche Recreation Area - (209) 763-5121
Isleton

Delta Bay RV Resort - (916) 777-5588
Rancho Marina RV Park & Campgrounds - (916) 777-6135
Jacumba

DeAnza Springs Resort - (619) 766-4301
Jamestown

Woods Creek RV Resort - (209) 984-3728
Jenner

Bridgehaven Campground - (707) 865-2473
Joshua Tree

Lazy H RV and Mobile Home Park - (760) 366-2212
Julian

Pinezanita Trailer Ranch - (760) 765-0429
Stagecoach Trails RV, Equestrian & Wildlife Resort - (760) 765-2197
Junction City

Bigfoot Campground - (800) 422-5219
June Lake

June Lake RV Park & Lodge - (760) 648-7967
Silver Lake Resort - (760) 648-7525
Keiseyville

Bell Haven Resort - (707) 279-4329
Kelseyville

Edgewater Resort & RV Park - (800) 396-6224
Kernville

Riverview Trailer Park - (760) 376-2345
King City

San Lorenzo Park - (831) 385-5964
Kingsburg

Riverland Resort - (559) 897-5166
Viking RV Park - (559) 897-2153
Klamath

Arbor Glen - (888) 255-2065
Klamath River RV Park - (707) 482-2091
Mystic Forest RV Park - (707) 482-4901
La Mesa

San Diego RV Resort - (877) 787-6386
Laguna Beach

Reynolds Resorts - (949) 415-1910
Lake Almanor

Lake Cove Resort and Marina - (530) 284-7697
Lassen View Resort - (530) 596-3437
Lake Elsinore

Crane Lakeside Park - (909) 678-2112
Lake Elsinore West Marina and RV - (800) 328-6844
Ortega Oaks Park - (888) 816-5833
Lake Isabella

Lake Isabella RV Resort - (800) 787-9920
Lakehead

Antler's RV Park & Campground - (800) 642-6849
Lakeshore Inn & RV - (888) 238-2003
Donny Creek Lakeshore Villa RV Park - (530) 238-8688
Shasta Lake RV Resort & Campground - (530) 238-2370
Lakeport

Konocti Vista Casino RV Park - (707) 262-1900
Northport Trailer Park - (707) 263-6311
Lakeside

Rancho Los Cochos RV Park - (800) 630-0448
Lakewood

KOA Campground - (562) 809-2522
Lancaster

Shady Elms MH & RV Park - (661) 948-3350
Leggett

Redwoods River Resort & Campground - (707) 925-6249
Lemon Cove

Lemon Cove/Sequoia Campground - (559) 597-2346
Leucadia

Trailer Rancho - (760) 753-2741
Lewiston

Lakeview Terrace Resort - (530) 778-3803
Old Lewiston Bridge RV Resort - (800) 922-1924
Pine Cove RV Park and Marina - (530) 778-3838
River Oaks Resort - (530) 778-0220
Likely

Likely Place RV Resort and Golf - (888) 350-3848
Lone Pine

Boulder Creek RV Park - (760) 876-4243
Sierra View RV Park - (800) 290-3526
Long Beach

Golden Shore RV Park - (562) 435-4646
Los Molinos

Driftwood RV and Fishing Resort - (530) 384-2851
Lotus

Camp Lotus - (916) 622-8672
Ponderosa RV Resort - (530) 642-5830
Lower Lake

Aztec River Grove RV Park - (707) 824-0550
Mabie

Feather River RV and Mobile Home Park - (888) 836-2183
Malibu

Malibu Beach RV Park - (310) 456-6052
Mammoth Lakes

Mammoth Mountain RV Park - (800) 582-4603
McGee Creek RV Park - (760) 935-4233
Manchester

Manchester Beach / Mendocino Coast KOA - (800) KOA-4188
Manteca

French Camp RV Park & Golf Course - (209) 234-3001
Oakwood Lake Resort - (800) 626-LAKE
Two Rivers RV Park - (209) 823-8434
Marina

Marina Dunes RV Park on Monterey Bay - (831) 384-6914
Mariposa

Mariposa Fairgrounds & Exposition Center - (209) 966-2432
McArthur

Lassen Pines RV Resort - (530) 336-5657
McCloud

Fridays RV Retreat and Fly Fishing Ranch - (530)964-2878
McCloud Dance Country RV Park - (530) 964-2252
Midpines

KOA Yosemite / Mariposa - (800) KOA-9391
Yosemite Trail Camp - (877) 384-2900
Mill Creek

Childs Meadow Resort - (888) 595-3383
Morgan Hill

Oak Dell Park - (408) 779-7779
Parkway Lakes RV Park - (408) 779-0244
Uvas Pines RV Park - (888) 566-7660
Morro Bay

Bay Pines Travel Trailer Park - (805) 772-3223
Morro Dunes Travel Trailer Resort - (805) 772-2722
Morro Strand RV Park - (805) 772-8232
Moss Landing

Moss Landing RV Park - (877) 735-7275
Mt. Baldy

Mt. Baldy Ranch RV Park - (909) 982-1252
Mt. Shasta

Lake Siskiyou Camp Resort - (888) 926-2618
Mt. Shasta KOA - (800) 562-3617
Murrietta

Great Times RV Resort - (909) 679-6562
Myers Flat

Giant Redwoods RV Camp - (707) 943-3198
Napa

Lake Berryessa Marina Resort - (707) 966-2161
Spanish Flat Resort - (707) 966-7700
Needles

Calizona RV Park - (760) 326-5679
Desert View RV Resort - (760) 326-4000
Fender's River Road Resort - (760) 326-3423
North Shore RV Resorts - (760) 663-4956
Newberry Springs

Twin Lakes RV Park - (760) 257-3377
Newman

Fisherman's Bend RV Park - (800) 862-3731
Newport Beach

Newport Dunes Waterfront RV Resort - (800) 765-7661
Nice

Holiday Harbor RV Park and Marina - (707) 274-1136
Niland

Bashfords Hot Mineral Spa - (760) 354-1315
Fountain of Youth Spa and RV Park - (888) 800-0772
Northridge

Walnut RV Park - (800) 868-2749
Novato

Novato RV Park - (415) 897-1271
Oakhurst

High Sierra RV & Mobile Park - (559) 683-7662
Oceano

Pismo Sands RV Park - (800) 404-7004
Sand & Surf RV Park - (800) 330-2504
Silver Spur RV Park - (805) 489-7787
Oceanside

Oceanside RV Park - (760) 722-4404
Paradise by the Sea - (760) 439-1376
Olema

Olema RV Resort & Campground - (800) 655-2267
Orange

Orangeland RV Park - (714) 633-0414
Oregon House

Collins Lake Recreation Area - (800) 286-0576
Orland

The Parkway RV Resort & Campground - (530) 865-9188
Pacifica

Pacific Park RV Resort - (800) 822-1250
Palm Desert

Emerald Desert Golf & RV Resort - (800) 426-4678
Fountain of Youth Spa and RV Park - (888) 800-0772
Palm Springs

Sky Valley Resort Park - (888) 893-7727
Palomar Mountain

Oak Knoll Campground - (760) 742-3437
Paradise

Quail Trails Village - (530) 877-6581
Parker

Emerald Cove RV Resort - (800) 628-8424
Parker Dam

River Lodge Resort - (800) 577-4837
Sunshine Resort - (760) 663-3098
Paso Robles

Wine Country RV Resort - (805) 238-4560
Pauma Valley

Rancho Corrido RV Resort - (760) 742-3755
Perris

Palm View RV Park - (909) 657-7791
Pescadero

Costanoa Coastal Lodge & Camp - (650) 879-1100
Petaluma

San Francisco North / Petaluma KOA - (800) 992-2267
Piedra

Lakeridge Camping & Boating Resort - (877) 787-2260
Pine Grove

Pine Acres Resort RV Park & Campground - (209) 296-4650
Pioneer

Bear River Lake Resort - (209) 295-4868
Pismo Beach

Holiday RV Park - (800) 272-3672
Pismo Coast Village RV Resort - (888) RV-BEACH
Pismo Sands RV Park - (800) 404-7004
Sand and Surf RV Park - (800) 330-2504
Pleasanton

Alameda County Fairgrounds - (925) 426-7600
Plymouth

Far Horizons 49er Village RV Resort - (800) 339-6981
Rancho Cicada Retreat - (209) 245-4841
Point Arena

Rollerville Junction - (707) 882-2440
Pomona

Los Angeles / Pomona / Fairplex KOA - (888) 562-4230
Portola

Feather River RV & MH Park - (888) 836-2183
Sierra Springs Trailer Resort - (530) 836-2747
Quincy

Pioneer RV Park - (888) 216-3266
Redding

Bear Mountain RV Resort - (800) 952-0551
Fawndale Lodge and RV Resort - (800) 338-0941
Fawndale Oaks RV Park - (888) 838-2159
Green Acres RV Park - (800) 891-6777
JGW RV Park - (530) 365-7965
Mountain Gate RV Park - (800) 404-6040
Premier RV Resort - (888) 710-8450
Redding RV Park - (530) 241-0707
Redway

Dean Creek Resort - (877) 923-2555
Reedley

Lindy's Landing - (559) 897-2885
Rohnert Park

Wine Country RV Park - Sonoma Grove - (707) 795-9333
Ridgecrest

Eddo's Harbor & RV Park - (925) 757-5314
Rio Dell

Rivers Edge RV Park - (707) 764-5420
Rio Vista

Eddo's Harbor and RV Park - (925) 757-5314
Panamint Springs Resort - (702) 482-7680
Rio Viento RV Park - (925) 382-4193
Riverside

Our Place - (909) 637-0710
Sacramento

Bamboo Tree Mobile & RV Park - (916) 383-5303
Cal Expo RV Park - (916) 263-3187
Sacramento Metro KOA - (800) KOA-2747
Salinas

Cabana Holiday Park - (800) 541-0085
Laguna Seca Park-Monterey - (831) 758-3604
Salyer

Lazy Double B RV Park - (530) 629-2156
San Andreas

Gold Strike Village - (209) 754-3180
San Bernardino

San Bernardino KOA Campground - (800) 562-4155
San Bernardino RV Park - (888) 518-3681
San Diego

Campland on the Bay - (800) 422-9386
La Pacifica RV Park - (619) 428-4411
Santa Fe Park RV Resort - (800) 959-3787
San Dimas

East Shore RV Park - (800) 809-3778
San Francisco

Candlestick RV Park - (800) 888-CAMP
San Jose

Trailer Tel - (408) 453-3535
San Juan Bautista

Betabel RV Resort - (831) 623-2202
San Luis Obispo

Avila Valley Hot Springs - (805) 595-2114
Ocean Canyon Resort - (805) 595-7111
Sanger

Merced River RV Resort - (209) 634-6056
River Bend / Kings Canyon RV & Mobile Home Park - (559) 787-3627
Santa Barbara

Santa Barbara Sunrise RV Park - (800) 345-5018
Santa Cruz

Beach RV Park - (408) 462-2505
Santa Vida RV Park & Campground - (831) 425-1945
Santa Margarita

Black Mountain RV Resort - (805) 438-3513
Santa Margarita Lake Campground KOA - (800) 562-5619
Santa Maria

Santa Maria Pines Campground - (805) 686-9120
Santa Nella

Santa Nella RV Park - (209) 826-3105
San Luis RV Resort - (800) 378-7275
Santa Paula

Far West Resort - (805) 933-3200
Mountain View RV Park - (805) 933-1942
Santa Rosa

Plaza Mobile Home & RV Park - (707) 573-9582
Santee

Santee Lakes Recreation Preserve - (619) 258-4684
Saratoga

Saratoga Springs - (408) 867-9999
Scotia

Stafford RV Park - (707) 760-3528
Scotts Valley

Carbonero Creek RV Park - (800) 546-1288
Santa Cruz Ranch RV Park - (831) 438-1288
Shaver Lake

Camp Edison - (559) 841-3134
Wishon Village - (559) 865-5361
Shingle Springs

Placerville KOA - (530) 676-2267
Shingletown

Mt Lassen/Shingletown KOA - (530) 474-3133
Sierra City

Sierra Skies RV Park - (530) 862-1166
Silver Lake

Plasse's Resort - (209) 295-4454
Sky Valley

Caliente Springs - (760) 329-2979
Soda Springs

Cisco Grove Campground & RV Park - (530) 426-1600
South Lake Tahoe

Tahoe Valley RV Resort - (530) 541-2222
South San Francisco

Treasure Island MH & RV Park - (650) 994-3266
Stockton

Riverpoint Landing Marina Resort - (209) 951-4144
Tiki Lagun - (877) 444-TIKI
Susanville

Bogard Campground - (530) 825-3212
Crater Lake Campground - (530) 825-3212
Goumaz Campground - (530) 825-3212
Mariner's Resort - (800) 700-5253
Mountain View RV Park - (877) 686-7878
Tehachapi

Indian Hill Ranch RV Park - (661) 822-6613
Temecula

Indian Oaks Trailer Ranch - (909) 302-5399
Pechanga RV Resort - (877) 997-8386
Vail Lake Village and RV Resort - (951) 303-0173
Terra Bella

Deer Creek RV Park - (209) 781-3337
Thornton

New Hope Landing, Trailer Park & Marina - (209) 794-2627
Three Rivers

Three Rivers Hideaway - (559) 561-4413
Tracy

Tracy Oasis Marina Resort - (209) 835-3182
Trinidad

Emerald Forest of Trinidad - (707) 677-3554
Hidden Creek RV Park - (707) 677-3775
Redwood Trails - (707) 488-2061
Trinity Center

Pinewood Cove Resort - (800) 286-2201
Truckee

Coachland RV Park - (530) 587-3071
Tulelake

Eagle's Nest RV Park - (530) 664-2081
Twain Harte

Sugar Pine RV Park - (209) 586-4631
Twenty Nine Palms

29 Palms RV Park & Resort - (760) 367-3320
Ukiah

Redwood Empire Fair RV Park - (707) 462-3884
Upper Lake

Lakeview Haven Resort & RV Park - (707) 275-2105
Pine Acres Blue Lake Resort - (707) 275-2811
Vacaville

Vineyard RV Park - (707) 447-8797
Valencia

Valencia Travel Village - (661) 257-3333
Vallejo

Tradewinds RV Park - (707) 643-4000
Valley Center

Lilac Oaks Campground - (760) 749-1179
Woods Valley Kampground - (760) 749-2905
Ventura

Avenue Trailer Town - (805) 643-5592
Vernalis

Orchard RV Park - (209) 836-2090
Waterford

Big Bear Park and RV Camping - (800) 882-2327
Watsonville

Pinto Lake Park - (831) 722-8129
Santa Cruz Resort KOA - (800) 562-7701
Waterford

Big Bear Park & RV Campground - (209) 874-4000
Weed

Friendly RV Park - (800) 830-0847
Trailer Lane RV Park - (530) 938-4554
Westport

Westport Beach RV & Camping - (707) 964-2964
Willits

Creekside Cabins and RV Resort - (707) 459-2521
Hidden Valley Campground - (707) 459-2521
Willits-Ukiah KOA Family Camping Resort - (707) 459-6179
Wilton

Laguna Del Sol - (916) 687-6550
Windsor

Windsorland Mobile Home and RV Park - (707) 838-4882
Winterhaven

Sans End RV Park - (858) 566-0148
Winters

Canyon Creek Resort - (530) 795-4133
Wofford Heights

Scenic Shores Mobile/RV Park - (760) 376-6917
Yreka

Waiiaka Trailer Haven - (530) 842-4500
Yuba City

TravelHome RV Park - (530) 674-8910
Yucca Valley

Yucca Valley RV Park - (760) 365-5596