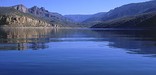 Colorado offers a plethora of campgrounds, ranging from low-lying camping facilities to high country hideaways tucked well within the Rocky Mountains. Hundreds of thousands of visitors venture to the lovely state of Colorado year-round to partake in world-class camping and adventures, and with a little forethought and investigation, anyone can get the most out of the glory that Colorado camping has to offer.
Camping in the state of Colorado is an adventure that anyone, of any skill level, can easily enjoy. The Colorado Campground & Lodge Owner's Association is a very handy resource in choosing a location in which to camp. Camp Colorado has a wealth of information detailing everything from selecting a location to Colorado trivia. The majority of campgrounds within the state offer very simple accommodations, with camping spaces normally consisting of a flattened area for a tent, a fire pit or box, and a set of outhouses. Most campgrounds also offer recreational vehicle hookups to accommodate those campers who prefer the luxury of an RV. Some Colorado campgrounds are much more complex, offering cabins and living quarters similar to those one might find at home. Selecting the type of campground is really a matter of personal choice. If you prefer the rugged style of tent camping, then choose a campground with very simple accommodations. If more high-class amenities are preferred, a campground that specializes in luxury should be chosen.
Colorado campgrounds can be found in all areas of the state, from the heart of the Rocky Mountains to the sprawling lower grasslands of the eastern plains. Deciding on a location in which to camp is dependant on preference of activities and outdoor skill level. If the main focus of your trip is to spend time hiking in the high county, a campground closer to the mountains is an ideal choice. If fishing and an easy stroll are more your style, than a camping area father from the Rockies can be investigated. Be sure that you check on park's passes or fees associated with your campground before you settle on a location.
The majority of Colorado campgrounds have set ground rules that all visitors must follow in order to use the park's facilities. Many Colorado campgrounds are located in areas rich in wildlife, which can cause a hazard to humans and animals alike if proper procedures are not followed. Bears and mountain lions are frequently spotted in many campground areas, and it is vital that all food and garbage be properly secured to avoid attracting unwanted attention. Any animals that you take camping with you must be well behaved and properly watched over. Dogs must be on lead at all times and need to be friendly to avoid any issues with fellow campers. Make sure that you check with your park of choice for regulations on any off road vehicles before deciding to take them on your camping trip. Many parks no longer allow the use of any motorized off road vehicles within camping areas, so check ahead to avoid any trouble.
Camping in Colorado can be the experience of a lifetime. Colorado offers a variety of campground experiences, from the rugged Rockies to the rolling plains and everything in bewteeen, making it the ideal desitnation for camping enthusiasts of all ages and skill levels. Colorado campgrounds are as varied as the state itself and can be easily enjoyed by locals and visitors alike, making them ideal destinations for anyone who enjoys the outdoors.



Aurora


Denver Meadows RV Park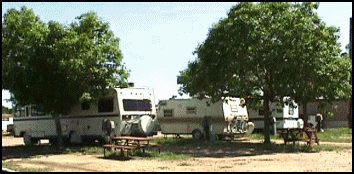 Email




We are the closest full service, secure park to downtown Denver and the Denver International Airport. - (800) 364-9487


---
Almont

Three Rivers Resort and Outfitting - (888) 761-3474
Arboles

Navajo State Park - (970) 883-2208
Pinion Park Campground & RV Resort - (888) 926-1749
Antonito

Mogote Meadow - (800) 877-2133
Bayfield

Blue Spruce Recreational Center - (888) 889-2641
Vallecito Resort - (800) 258-9458
Berthoud

Parrish Ranch Rv Resort & Event Center - (303) 772-5118
Breckenridge

Tiger Run Resort - (800) 895-9594
Brighton

Barr Lake RV Park - (800) 654-7988
Buena Vista Area

Arkansas River Rim Campground & RV Park - (719) 395-8883
Buena Vista KOA - (800) 562-2672
Chalk Creek Campground & RV Park - (888) 395-8830
Crazy Horse Camping Resort - (719) 395-2323
Mt. Princeton RV Park - (719) 395-6206
Snowy Peaks RV Park & Rentals - (800) 954-8481
Canon City

Buffalo Bill's Royal Gorge Campground - (800) 787-0880
Fort Gorge Campground and RV Park - (719) 275-5111
Royal Gorge Yogi Bear's Jellystone Park - (800) 341-4471
Royal View @ Royal Gorge Campground - (719) 275-1900
Carbondale

BRB Crystal River Resort - (800) 963-2341
Cascade

Lone Duck Campground & Cabins - (800) 776-KWAK
Castle Rock

Castle Rock Campground - (800) 387-9396
Central City

Gamblers Edge RV Park - (877) 660-3465
Clifton

RV Ranch at Grand Junction - (800) 793-0041
Coaldale

Cutty's Hayden Creek Resort - (719) 942-4222
Colorado Springs

Falcon Meadow RV Campground - (719) 495-2694
Fountain Creek RV Park - (719) 633-2192
Garden of the Gods Campground - (800) 248-9451
Golden Eagle Ranch RV Park & Campground - (800) 666-3841
Goldfield Campground - (888) 471-0495
Mountaindale Campground and Cabins - (719) 576-0619
Cortez

Sundance RV Park - (800) 880-9413
Cripple Creek

Cripple Creek Hospitality House & RV Park - (800) 500-2513
Eagles Landing RV Park - (719) 689-2006
Del Norte

Woods and River Campground - (877) 354-6922
Delta

Four Seasons River Inn and RV Park - (888) 340-4689
Over The Hill RV Ranch - (970) 874-0200
Riverwood Inn & RV Park - (888) 213-2124
Denver

Denver North Campground - (800) 851-6521
Durango

Durango Riverside Resort & RV Park - (970) 247-4499
Five Branches Camper Park - (800) 582-9580
Hermosa Meadows Camper Park - (800) 748-2853
Lightner Creek Campground and Cabins - (970) 247-5406
Silver Mountain Resort - (877) 247-1919
United Campground - (970) 247-3853
Empire

Mountain Meadow Camoground - (303) 569-2424
Estes Park

Elk Meadow Lodge & RV Resort - (800) 582-5342
Estes Park Campground - (970) 586-4188
Manor RV Park and Motel - (970) 586-3251
Mary's Lake Campground & RV Park - (970) 586-4411
National Park Retreats Campground and Cabins - (970) 586-4563
Paradise RV Park - (866) 556-3422
Spruce Lake RV Park - (800) 583-1050
Yogi Bear's Jellystone Park of Estes - (800) 722-2928
Falcon

Falcon Meadow RV Campground - (719) 495-2694
Florissant

Arrowhead Falls Campground and Fishing Resort - (719) 748-6100
Fort Collins

Heron Lake RV Park - (800) 562-9168
Glenwood Springs

Ami's Acres Campground - (970) 945-5340
Hideout Cabins & Campground - (800) 987-0779
Rock Gardens Campground - (907) 945-6737
Golden

Chief Hosa Campground - (888) 244-3346
Dakota Ridge RV Park - (800) 398-1625
Grand Lake

Winding River Resort - (970) 627-3215
Gunnison

Gunnison Lakeside Resort Inc - (877) 641-0488
Mesa Campground - (800) 482-8384
Hotchkiss

Mountain Valley Meadows RV Park - (800) 782-4037
Ignacio

Sky Ute Event Center & RV Park - (970) 563-4502
Kremmling

Red Mountain RV Park - (877) 375-9593
La Veta

Bearadise Cabins & RV Park - (800) 596-6221
Log Haven Lodge and RV Park - (719) 742-5757
Lake City

Castle Lakes Campground & Cabins - (970) 944-2622
Highlander RV Campground - (970) 944-2878
T Bears Lake City Campground & RV Park - (970) 944-2920
La Junta

La Junta KOA - (719) 384-9580
La Veta

Bearadise Cabins & RV Park - (719) 742-6221
Circle the Wagons RV Resort - (719) 742-3233
Leadville

Leadville R.V. Corral - (719) 486-3111
Sugar Loafin' Campground - (719) 486-1031
Loveland

Carter Valley Campground - (970) 663-3131
Riverview RV Park and Campground - (800) 447-9910
Manitou Springs

Western Cabins Resort - (800) 873-4553
Marble

Meri Daes RV Park - (970) 963-1991
Montrose

Cedar Creek RV Park, & RV Rentals - (970) 249-3884
Centennial RV Park - (970) 240-3832
Country Village RV Resort - (970) 249-6382
Monument

Lake of the Rockies Retreat and Camping Resort - (719) 481-4227
Nathrop

Chalk Creek Campground & RV Park - (800) 643-9727
Pagosa Springs

Cool Pines RV Park - (970) 264-9130
Pagosa Riverside Campground - (888) 985-3234
Sportsmans Supply, Campground and Cabins - (970) 731-2300
The Last Resort RV Park & Campground, Inc. - (970) 264-6464
Wolf Creek Valley Campground - (970) 264-4853
Pueblo

Pueblo South/Colorado City KOA - (719) 676-3376
Rangely

Silver Sage RV Mobile Home Park - (970) 675-2259
Rye

Aspen Acres Campground Inc. - (719) 485-3275
Seibert

Shady Grove Campground - (970) 664-2218
Silverton

Silver Summit RV Park & Jeep Rentals - (800) 352-1637
Somerset

Crystal Meadows Resort - (877) 886-9678
South Fork

Grandview Cabins and RV - (719) 873-5541
High Country RV Park - (719) 873-5863
Riverbend Resort - (719) 873-5344
South Fork Campground - (817) 594-5505
Sterling

Buffalo Hills Campground - (970) 522-2233
Yogi Bear's Jellystone Park of Sterling - (970) 522-2233
Stonewall

YWAM All Nations RV Park - (719) 868-3002
Stratton

Trail's End Campground - (719) 348-5529
Vallecito Lake

Blue Spruce RV Park & Campground - (970) 884-2641
Westcliffe

Cross D Bar Trout Ranch - (800) 453-4379
Woodland Park

Diamond Campground & RV Park - (719) 687-9684