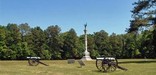 The state of Georgia has a variety of places to camp. When choosing a Georgia campground you should consider the type of activities you want to have access to, and the type of camping that best suits your needs. These decisions can guide you as you choose the Georgia campgrounds that will suit your camping preferences. Georgia campgrounds can be found around the state's major cities such as Atlanta, Savannah, Augusta, Valdosta, Macon, and many others. Georgia State Parks also have a variety of campgrounds to choose from.
Camping in the Southern Rivers region of Georgia is ideal for people who love water, history, plantations, birds, and wildlife. There are dozens of lakes and waterways for campers to enjoy, including the famous Chattahoochee River. History buffs will enjoy the Andersonville National Historic Site, and visiting plantations such as Ashbrooke, Quail Country, Omanga, Wynfield, Pebble Hill, Beadel House, and Southern Woods. Nature lovers and bird watchers will enjoy the Birdsong Nature center, as well as the Sweet Grass Dairy.
The Georgia Coast region is for campers who want a taste of the ocean, history, and shopping. The Georgia Coast has many islands campers can visit including Tybee Island, also known as Savannah's Beach. These islands are perfect for campers who love sandy beaches and fun under the sun. Campers who love viewing wildlife can visit Okefenokee Swamp where nature reigns. History buffs will enjoy Wormsoloe Historic Site, Old Fort Jackson, Fort Pulaski, Fort Screven, and Telfair Museum of Art—one of the country's oldest art museums.
The Historic South region of Georgia offers many campgrounds for people who love culture and natural beauty. Campers can take cruises along the Augusta Canal, tour sites such as the Hay House, and visit the Tubman Museum. Durhmantown Plantation is known for its outdoor recreation, as is Dausett Trails which offers 1100 acres of nature at its finest. Many campers come to this region of Georgia simply to visit the Okefenokee National Wildlife Refuge.
Campers who want a mix of city and country should reserve stays in Georgia's campgrounds around the Atlanta Metro region. Campers can enjoy Underground Atlanta, where shopping and dining is a true experience. They can then head out to explore the cosmopolitan attractions of the city and its hot night scene. Stone Mountain Park is outside the city of Atlanta and is ideal for family fun and outdoor recreation.
Campers who want a true outdoor experience should camp in the Georgia Mountains Region. Campers can explore the Blueridge Mountains, and Lake Sidney Lanier—a shore that is home to Gainesville which offers recreation, dining, and shopping in the mountains. Chickamauga and Lookout Mountain are also popular destinations for campers.
Georgia's state parks are very camper friendly. There are campgrounds in the following Georgia state parks: A.H. Stephens, Amicalola Falls and Lodge, Black Rock Mountain, Bobby Brown, Cloudland Canyon, Crooked River, Elijah Clark, F.D. Roosevelt, Florence Marina, Fort McAllister, Fort Mountain, Fort Yargo, General Coffee, George L. Smith, Georgia Veterans, Gordonia Alatamaha, Hamburg, Hard Labor Creek, Hart, High Falls, Indian Springs, James H. Floyd, John Tanner, Kolomoki Mounds, Laura S. Walker, Little Ocmulgee, Magnolia Springs, Misteltoe, Moccasin Creek,  Red Top Mountain, Reed Bingham, Richard B. Russell, Seminole, Skidaway Island, Stephen C. Foster, Tallulah Gorge, Tugaloo, Victoria Bryant, Vogel and Watson Mill Bridge.
Athens
Bulldog Park
Email
Luxury RV facility in Athens Georgia. Features of Bulldog Park Include: Full hook ups, water, sewer electrical and Directv. Pull thru and back in sites are available. Playground and BBQ areas. Pavilion area with climate controlled restrooms and showers. - (864) 320-8836
---
Adairsville

Harvest Moon RV Park - (770) 773-7320
Leisure Time RV Park - (706) 506-9169
Adel

Reed Bingham State Park - (912) 896-3551
Albany

Albany RV Resort Inc. - (866) 792-1481
Americus

Brickyard Plantation Golf Club and RV Campground - (912) 874-1234
Appling

Mistletoe State Park - (706) 541-0321
Athens

Bulldog Park - (864) 320-8836
Atlanta

Brookwood RV Resort Park - (877) 727-5787
Bainbridge

The Place To Be RV Park - (229) 246-5802
Blairsville

Enota Campground & Resort - (800) 990-8869
Mountain Creek RV Resort - (706) 745-5600
Mountain Oak Cabins and Campground - (888) 781-6867
Trackrock Campground & Cabins - (706) 745-2420
Blakely

Kolomoki Mounds State Park - (800) 864-PARK
Cartersville

Allatoona Landing Marine Resort - (800) 346-7305
Cave Spring

Cedar Creek Park - (706) 777-3030
Chauncey

Jay Bird Springs Resort - (229) 868-2728
Clarkesville

Moccasin Creek State Park - (706) 947-3194
Sugar Mill Creek Rv Resort - (706) 947-0162
Cleveland

Jenny's Creek Family Campground - (706) 865-6955
Serendipity Family Nudist Park - (888) NUDE-ONE
Turner Campsites - (706) 865-4757
Cochran

Hillside Bluegrass RV Park - (478) 934-6694
Columbus

Lake Pines Campground and RV Park - (706) 561-9675
Commerce

Commerce/Athens KOA - (706) 335-5535
The Pottery Campground - (706) 335-5984
Dahlonega

Etowah River Campground - (706) 864-9035
Darien

Native Woods Naturists Park - (912) 437-6415
Dawsonville

Hidden Valley Resort - (706) 265-6110
Donalsonville

Seminole Sportsman Lodge, Marina & Campground - (888) 628-3862
Seminole State Park - (912) 861-3137
Trails End Resort - (229) 861-2000
Dublin

Pinetucky Campground - (478) 272-6745
Ellijay

Plum Nelly Campground - (404) 317-2458
Folkston

Okefenokee Pastimes - (912) 496-4472
Forsyth

Forsyth KOA - (800) KOA-8614
Greensboro

The North Shore Resort at Lake Oconee - (706) 453-4505
Helen

Creekwood Resort - (706) 878-2164
Enota Resort Campground and Cabins - (800) 990-8869
Madison

Talisman RV Resort - (706) 342-1799
Marietta

Brookwood RV Resort Park - (877) 727-5787
Mentone

Serenity Campground - (256) 630-0303
Midland

Lake Pines Campground and RV Park - (706) 561-9675
Milledgeville

Piney Woods Colony - (478) 457-5354
Mineral Bluff

Bear-ly Camping - (770) 363-2972
Morganton

Whispering Pines Campground & Cabins - (706) 374-6494
Moultrie

Moultrie RV Park - (229) 873-4258
Nicholls

Dunrovin RV Park & Stables - (912) 345-2793
Ocklocknee

Sugar Mill Plantation RV Park - (229) 977-1451
Perry

Fair Harbor RV Park - (877) 988-8844
Pine Mountain

Pine Mountain Campground - (706) 663-4329
Quitman

Country Lakes Resort - (229) 263-5350
Rincon

Greenpeace RV Park - (912) 826-5540
Rockmart

The Rock Campground - (770) 684-8519
Royston

Victoria Bryant State Park - (706) 245-6270
Saint George

Hidden River Ranch - (912) 843-2603
Statesboro

Parkwood RV Park - (912) 681-3105
Suches

T.W.O. Motorcycle Resort - (706) 747-5151
Talking Rock

Talona Creek Campground - (888) 835-1266
Tallulah Falls

Tallulah River Mountain Resort - (800) 476-9515
Thomasville

Sugar Mill RV Park - (229) 227-1451
Townsend

Lake Harmony RV Park - (888) 767-7864
McIntosh Lake RV Park - (912) 832-6215
Trenton

Lookout Mountain/Chattanooga West KOA - (706) 657-6815
The Landing RV Park & Cabins - (800) 803-7788
Tybee Island

Rivers End Campground and RV Park - (800) 786-1016
Unadilla-Haewkinsville

South Prong Creek Campground - (912) 783-2551
Valdosta

River Park RV Park - (229) 244-8397
Vienna

Dixie RV Park - (229) 268-5712
Waynesville

Satilla River Vacation Land - (888) 788-7010