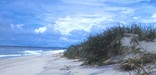 The famous wild horses of Assateague Island can be seen in their natural habitat a few miles south of Ocean City, Maryland. The horses can be elusive or can be seen roaming the parking lots and beach areas.  A large campground on Assateague is about eight miles south of Ocean City and offers swimming, surfing, and fishing on the ocean side, and canoeing and kayaking on the bay side. There are many marshlands in the area, as well.
Also near Ocean City is a theme park, which offers a Wild West theme and a water park along with a huge campground. Various camping options are available including primitive sites, RV sites with electric, water and sewage, and sites with just water and electric. Some cabins are also available, and there are campsites on the bay.
Other campgrounds are also available near Ocean City, home to unusually lively waves compared to others on the Atlantic Seaboard. Ocean City also has an extensive boardwalk with several amusement and water park areas, as well as the shops and food concessions typical of a boardwalk. 
Visiting Washington, DC, doesn't mean you must find expensive lodging in a hotel or motel. There are campgrounds outside the city which have close access to the DC Metro Subway. The Metro stations have parking lots where cars can be parked for the day, and the trip into the city takes only minutes on the Metro. 
The largest man-made lake in Maryland is at Deep Creek State Park. In addition, there are many private campgrounds in the Deep Creek Lake area, which offer swimming, hiking, boating, and fishing. 
The extensive shoreline of the Chesapeake Bay offers many locations for camping adventures. The Chesapeake Bay area is known for its blue crabs, which makes crabbing and fishing favorite pastimes.  Not so well known are the Calvert Cliffs where three areas of Miocene Age geological formations exist. Most of this land is privately owned, making the search for fossils carefully regulated. Children especially enjoy hunting for the shark's teeth fossils, which can be found in the sand during low tide. There are camping locations as well as Calvert Cliff State Park, in the area of St. Leonard and Solomons. 
A camping location that offers local history and myth is at Point Lookout State Park, south of the Solomons Island Bridge. On the site of a Civil War prison where thousands of Confederate soldiers were imprisoned, the park has campsites and cabins, as well as hunting, fishing, swimming, and hiking activities.  There is even a haunted lighthouse at the park to stir the imagination of children young and old.
Campgrounds also exist in Janes Island State Park on the Chesapeake Bay.  The park is actually located on the Bay side of this southeastern portion of Maryland and a ferry is available to take passengers to Smith Island where about 300 inhabitants live year-round. These residents are descendants of the earliest Europeans who settled in the area, following the original Native Americans who lived in the area 10,000 years ago. Janes Island State Park is part of the Beach to Bay Indian Trail. 
Maryland offers camping experiences which run the gamut from primitive to commercial, from inland forests and lakes to saltwater marshes and beaches. 
Bishopville

Bali Hi RV Park Rentals - (443) 880-4064
Callaway

Take It Easy Campground - (301) 994-0494
College Park

Cherry Hill RV Park - (800) 801-6449
Drayden

Dennis Point Marina - (301) 994-2288
Earleville

Buttonwood Beach RV Resort - (410) 275-2108
Freeland

Morris Meadows Recreation Farm, Inc. - (800) 643-7056
Greensboro

Holiday Park Campground - (410) 482-6797
Hagerstown/Snug Harbor

Hagerstown/Snug Harbor KOA - (301) 223-7571
Hancock

Happy Hills Family Campground - (301) 678-7760
Little Orleans

Little Orleans Campground & Park Area - (301) 478-2325
Ocean City

Frontier Town Campground - (800) 228-5590
Ocean City Travel Park - (410) 524-7601
Piney Point

Camp Merryelande RV & Vacation Cottages - (800) 382-1073
Quantico

Sandy Hill Family Camp, Inc. - (410) 873-2471
Rohrersville

Maple Tree Campground - (301) 432-5585
Taylors Island

Tideland Park - (800) 673-9052
Thurmont

Ole Mink Farm Recreation Resort - (301) 271-7012
Whaleyville

Fort Whaley Campground - (410) 641-9785
Williamsport

Yogi Bear's Jellystone Park Camp Resort - (800) 421-7116
Woodbine

Ramblin' Pines Campground - (800) 550-8733