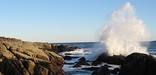 Explore the Best Mother Nature Has to Offer at Maine Campgrounds
You will find excellent Maine campgrounds across the state that allows you to explore the very best of almost all worlds when it comes to enjoying the great outdoors. Maine is home to some of the most beautiful landscape in the country and offers many wonderful opportunities for families to get out and enjoy mountains, water, and woodlands.
Acadia National Park
If you want to take in the beautifully rugged coast of Maine, this is a great place to take the family camping. There is plenty to explore in and around the park, including Bass Harbor Head Lighthouse, a Nature Center, Cadillac Mountain, and the Islesford Historical Museum. There is also a wide range of wildlife to explore and a cobblestone beach. If you want to experience something really neat explore the cobblestone beach.
Moose Point State Park
This park provides plenty of great activities to make your camping trip a little more adventurous. From tidal pools to evergreen groves and countless other avenues to explore Moose Point State Park is one of many Maine Campgrounds that offers a year round package for entertainment. Whether you are camping out or taking a day trip you will find plenty to do no matter what season it happens to be.
Bradbury Mountain State Park
This year round campground provides campers an opportunity to experience the great outdoors of Maine in every season. You can enjoy year round camping and plenty of exciting activities to keep you busy no matter what the season. Along with excellent camping in the winter months you can enjoy snowmobile trails, cross country skiing, and snow shoe rentals. There is also plenty of hiking and beautiful scenery to enjoy.
Sebago Lake
Sebago Lake offers plenty of great choices for families traveling. In addition to tent and RV camping, families can enjoy renting one of the many great cabins in the area or enjoy staying at the Point Sebago resort. In addition to many great nature activities in the area you can also enjoy an excellent round of golf or several, during your stay. What could be better than a round of golf surrounded by some of the most beautiful countryside the state of Maine has to offer?
Maine's campgrounds allow families from all walks of life the opportunity to observe nature in an up close and personal sort of way. Whether you are new to camping or an old hat to the experience there are many campgrounds around that can make the experience thrilling for you and your entire family. The key to a successful camping trip at any one of the many great Maine campgrounds is to plan ahead but be willing to go with the flow once you get there. There are so many things to do, see, explore, and experience but it would be a shame to miss out on the fun of just being together as a family in the process.
The Forks
Northern Outdoors
Email


World class adventures from the comfort of New England's premier outdoor adventure resort! Riverside campground. - (800) 765-7238
---
Abbot Village

Balsam Woods Campground - (207) 876-2731
Alexander

Pleasant Lake Camping Area - (207) 454-7467
Alfred

Scott's Cove Camping Area - (207) 324-6594
Andover

South Arm Campground - (207) 364-5155
Appleton

Sennebec Lake Campground - (207) 785-4250
Bangor

Pleasant Hill Campground - (207) 848-5127
Wheeler Stream Camping Area - (207) 848-3713
Bar Harbor

Bar Harbor Campground - (207) 288-5185
Bar Harbor Chamber of Commerce - (800) 288-5103
Hadley's Point Campground - (207) 288-4808
Spruce Valley Campground - (207) 288-5139
Bass Harbor

Bass Harbor Campground - (800) 327-5857
Quietside Campground - (207) 244-5992
Bath

Meadowbrook Camping Area - (800) 370-CAMP
Belfast

Moorings Oceanfront RV Resort - (207) 338-6860
Searsport Shores Oceanfront Camping Resort - (207) 548-6059
Berwick

Beaver Dam Campground - (207) 698-2267
Biddeford

Homestead by the River Family Campground - (207) 282-6445
Shamrock RV Park - (207) 284-4282
Boothbay Harbor

Gray Homestead Oceanfront Camping - (207) 633-4612
Little Ponderosa Campground - (207) 633-2700
Brownfield

River Run Canoe Rental and Camping - (207) 452-2500
Woodland Acres Campground - (207) 935-2529
Brunswick

Thomas Point Beach & Campground - (207) 725-6009
White's Beach and Campground - (207) 729-0415
Canaan

Skowhegan / Canaan KOA - (207) 474-2858
Cape Neddick

Dixon's Coastal Maine Campground - (207) 363-3626
Harborview Oceanside Campground - (207) 363-4366
Casco

Point Sebago Resort - (800) 655-1232
Calais

Pleasant Lake Camping Area - (207) 454-7467
Clifton

Parks Pond Campground - (207) 843-7267
Cushing

Saltwater Farm Campground - (207) 354-6735
Damariscotta

Lake Pemaquid Camping - (207) 563-5202
Danforth

Greenland Cove Campground - (207) 448-2863
East Millinocket

Pine Grove Campground and Cottages - (207) 746-5172
East Orland

Balsam Cove Campground - (207) 469-7771
Whispering Pines Campground - (207) 469-3443
Eastbrook

Eastbrook Campground - (888) 565-2319
Eddngton

Greenwood Acres RV Park and Campground - (207) 989-8898
Ellsworth

Hospitality Woods RV Park - (800) 773-2668
The Gatherings Family Campground Oceanfront Camping - (207) 667-8826
Farmington

Twin Pond Campground - (207) 778-4977
Freeport

Blueberry Pond Campground - (207) 688-4421
Cedar Haven Campground - (207) 865-6254
Desert of Maine Campground - (207) 865-6962
Recompence Shore Campsites - (207) 865-9307
Georgetown

Camp Seguin - (207) 371-2777
Greenville

Casey's Spencer Bay Camps - (207) 695-2801
Moosehead Family Campground - (207) 695-2210
Harrington

Sunset Point Campground - (207) 483-4412
Holden

Red Barn RV Park - (207) 843-6011
Island Falls

Birch Point Campground & Cottages - (207) 463-2515
Jackman

John's Four Season Accommodations - (888) 668-0098
Loon Echo Family Campground - (207) 668-4829
Moose Alley Campground - (207) 668-2781
Mooser River Campground & Cabins - (207) 668-3341
Kennebunkport

Hemlock Grove Campground - (207) 985-0398
Kennebunkport Camping - (207) 967-2735
Kingfield

Deer Farm Campground - (207) 265-4599
Lakeville

Wild Fox Resort - (207) 610-4021
Lebanon

Heavenlee Acres - (207) 457-1260
Natural High Resort - (207) 339-2033
Leeds

Riverbend Campground - (207) 524-5711
Lincolnville Beach

Old Massachusetts Homestead Campgound - (800) 213-8142
Limestone

Malabeam Lake Campground - (207) 328-4643
Litchfield

The Birches Family Campground - (207) 265-4330
Lovell

Kezar Lake Camping Area - (207) 925-1631
Lubec

South Bay Campground - (207) 733-1037
Mattawamkeag

Mattawamkeag Wilderness Park Campground - (888) 724-2465
Medway

Katahdin Shadows Motel & Campground - (800) 794-5267
Milinocket

Hidden Springs - (207) 723-6337
Mount Desert

Somes Sound View Campground - (207) 244-3890
Naples

Bay of Naples Family Camping - (207) 693-6429
Naples Campground - (207) 693-5267
New Harbor

Pemaquid Point Campground - (207) 677-2267
Newport

Sebasticook Lake Campground - (800) 319-9333
Tent Village Travel Trailer Park - (207) 368-5047
North Monmouth

Beaver Brook Campground - (207) 933-2108
North Waterboro

Eastwest Camp - (207) 737-8172
Old Orchard Beach

Hid'n Pines Family Campground - (207) 934-2352
Ne'Re Beach Family Campground - (207) 934-7614
Old Orchard Beach Campground - (207) 934-4477
Powder Horn Family Camping Resort - (207) 934-4733
Wagon Wheel Campground and Cabins - (207) 934-2160
Wild Acres Family Camping Resort - (207) 934-2535
Orland

Shady Oaks Campground & Cabins - (207) 469-7739
Orono

Pushaw Lake Campground - (207) 945-4200
Orr's Island

Orr's Island Campground - (207) 833-5595
Palmyra

Palmyra Golf & RV Resort - (207) 938-4947
Phippsburg

Meadowbrook Camping - (800) 370-CAMP
Poland Spring

Poland Spring Campground - (207) 998-2151
Pownal

Blueberry Pond - (877) 290-1381
Presque Isle

Arndt's Aroostook River Lodge and Campground - (207) 764-0730
Neil E. Michaud Campground - (207) 769-1951
Saco

Saco/Portland South KOA - (800) 562-1886
Silver Springs Campground & Lodging - (207) 283-3880
Sanford

Sand Pond Campground - (207) 324-1752
Yellowstone Park - (207) 324-7782
Scarborough

Bayley's Camping Resort - (207) 883-6043
Twin Brooks Camping Area - (207) 428-3832
Wild Duck ADULT Campground & RV Park - (207) 883-4432
Searsport

Searsport Shores Camping Resort - (207) 548-6059
Sebago Lake

Family-N-Friends Campground - (207) 642-2200
Skowhegan

Two Rivers Campground - (207) 474-6482
Yonderhill Campground And Cabins - (207) 474-7353
Solon

The Evergreens Campground & Restaurant - (207) 643-2324
Southwest Harbor

Smuggler's Den Campground - (207) 244-3944
St. Agatha

Lakeview Camping Resort - (207) 543-6331
St. Francis

Pelletier's Campground - (207) 398-3187
Steep Falls

Acres of Wildlife - (207) 675-3211
Stetson

Stetson Shores Campground - (207) 296-2041
Sullivan

Flanders Bay Cabins & Mt. View Campground - (207) 422-6408
Surry

The Gatherings Family Campground - (207) 667-8826
Thomaston

Saltwater Farm Campground - (207) 354-6735
Trenton

Narrows Too Camping Resort - (207) 667-4300
Warren

Loon's Cry Campground - (800) 493-2324
Sandy Shores RV Resorts - (207) 845-2019
Waterford

Papoose Pond Resort & Campground - (207) 583-4470
Wells

Pinederosa Camping Area - (207) 646-2492
Sea-Vu Campground - (207) 938-4947
Stadig Campground - (207) 646-2298
West Rockport

Camden Rockport Camping - (207) 236-2498
Westfield

Campers Paradise, Inc. - (207) 429-8178
Wiscasset

Chewonki Campground - (207) 882-7426
York

Burnette's Tent and Trailer Area - (207) 363-4756