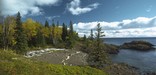 Visit these Beautiful Michigan Campgrounds
There are numerous Michigan campgrounds known for their beauty, excellent amenities and convenient access. If you're planning on spending some time camping in Michigan, there are some campgrounds you won't want to miss.
Beaver Trail Campground
4408 Grass Lake Road
West Branch, MI 48661
1-800-380-4341

Beaver Trail Campground is a beautiful place to camp for several days or simply spend the day, and the best part is that you can do so all year round. Camping at Beaver Trail includes the use of 28 sites, perfect for campers, tents or RV's. The adjacent lake is private and offers many water activities for their guests to participate in, include swimming and fishing. Activities also include playgrounds for the kids, snowmobiling trails, a volleyball area and picnic areas, just to name a few. Restrooms and hot showers are also available for your stay at Beaver Trail, and convenience stores are located a few miles away.
Camp Turkeyville
18935 15-1/2 Mile Road
Marshall, Michigan 49068
1-269-781-4293
Nestled in the hills at Turkeyville USA. this resort has 128 full hook up sites with two pools, basket ball court, sand volleyball court, playground and a full calendar of events at Turkeyville.
Park of the Pines
4094 Springwater Beach Road
Boyne City, MI 49712
1-231-582-7660

On the edge of Lake Charlevoix lies beautiful Park of the Pines, a 22.5-acre reservation open for camping reservations. Not only does this Michigan campground include 70 camping sites, its on-site lodge offers room for 56 people to sleep in, as well as a dining room, kitchen, auditorium and more. This is a church campground that holds many group activities, including sports and church camps, weddings and family parties. Camping is open to the general public, so make a reservation anytime. The grounds include a baseball field and a basketball court, as well as a playground and beach with a dock.
Petoskey KAO Campground
1800 North US 31
Petosky, MI 49770
1-800-562-0253

This beautiful campground has been rated among the best in RV resorts in all of the United States, and for good reason. Multiple RV sites are available, each with a concrete patio, fire ring and a private picnic table. Full hook-ups are available for all RVs. Cabins can also be rented, but they are for sleep use only--none are equipped with any modern facilities. There are also dozens of tent sites available for use among the grounds of Petoskey KAO. Camping activities on the grounds include a heated pool and a hot tub, open every day. There are many outdoor areas available for general use, such as picnic areas, playgrounds and scenic outlooks.
Saugatuck
Saugatuck RV Resort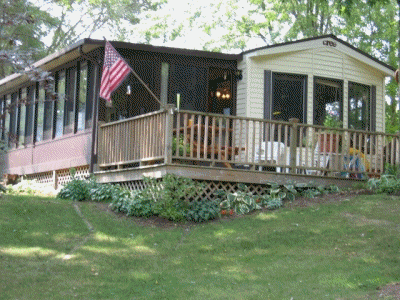 Email












Located on beautiful Goshorn Lake, 1 mile by bike path from town, SAUGATUCK RV RESORT offers select lots, park models, & travel trailers for rent & for sale. - (616) 836-2719
Marcellus
Cranberry Lake Campground
Email




Award Winning fishing, showerhouse, play area and equiment, sandy beach, Boat rental and much more... - (269) 646-3336
Mears
Silver Creek RV Resort
Email











One of Michigan finest luxury parks.Located near Lake Michigan and Silverlake Sanddunes. - (866) 401-4592
Wellston
Twin Oaks Campground & Cabins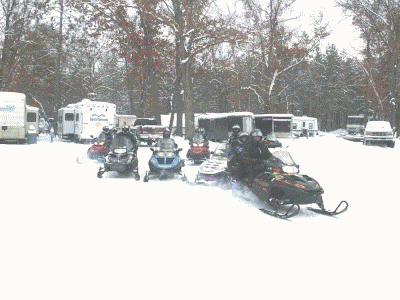 Email










Manistee Forest Pine/Big Manistee Rivers/Tippy Dam! 20/30/50 Amp, Water/Sewer, Rustic, Group, Family sites. Full housekeeping cabins (A/C, Dish TV), Lodge, Campstore, WiFi. Snowmobile from Site! - (877) 442-3102
---
Alger

Greenwood Campground - (517) 345-2778
Allegan

Dumont Lake Campground - (616) 673-6065
River Pines RV Park and Campground - (616) 895-6601
Alpena

Thunder Bay RV Park & Campground - (989) 354-2528
Alto

Tyler Creek Golf Course & Campground - (616) 868-6751
Baldwin

Ivan's Campground / Cabins & Canoe Rental - (231) 745-3361
Whispering Oaks Campground & Cabins - (231) 745-7152
Beaverton

Cedar River Canoe Livery & Campground - (989) 426-7611
Tobacco Road Trailer Camp - (517) 435-9626
Belding

Scalley Lake Park - (616) 691-8534
Bellaire

Chain O' Lakes Campground - (231) 533-8432
Boyne City

Park of the Pines - (231) 582-7660
Brooklyn

Earnhardt Acres Campground - (517) 745-3133
Juniper Hills Campground - (517) 592-6803
Byron

Myers Lake United Methodist Campground - (800) 994-5050
Cadillac

Camp Cadillac - (616) 775-9724
Cedarville

Loons Point Campground - (906) 484-2881
Cement City

Irish Hills Resort Kampground - (517) 592-6751
Chassell

Greenlight Resort - (906) 523-4417
Coldwater

Branch County Fairgrounds - (517) 278-5367
Waffle Farms Campgrounds - (517) 278-4315
Coopersville

Conestoga Grand River Campground - (616) 837-6323
Curtis

Log Cabin Resort and Campground - (906) 586-9732
Dundee

Wilderness Retreat Campgrounds,inc. - (734) 529-5122
Frankfort

Betsie River Campsite - (616) 352-9535
Frankenmuth

Frankenmuth Jellystone Park - (517) 652-6668
Gaylord

Gaylord KOA - (989) 939-8723
Germfask

Big Cedar Campground & Canoe Livery - (906) 586-6684
Northland Outfitters Camping Resort - (800) 808-3FUN
Gladstone

Bay Campground - (906) 428-1211
Grand Junction

Rose's Retreat Cabins and Campsites - (269) 434-6116
Grass Lake

Apple Creek Campground & RV Park, LLC - (517) 522-3467
Grayling

River Park Campground - (517) 348-9092
Sno-Trac Village - (989) 348-9494
Harrison

Countryside Campground - (989) 539-5468
Hastings

Whispering Waters Campground & Canoe Livery - (800) 985-7019
Hillman

Jack's Landing Resort & Restaurant - (517) 742-4370
Homer

Lighthouse Village - (517) 568-4343
Houghton

City of Houghton RV Park - (906) 482-8745
Houghton Lake

Houghton Lake Travel Park - (800) 659-9379
Howell

Taylor`s Beach Campground - (586) 489-0360
Indian River

Yogi Bear's Jellystone Park Camp-Resort - (616) 238-8259
Irons

Leisure Time Campground - (800) 266-8214
Ishpeming

Country Village RV Park - (906) 486-0300
Jones

Rogers Resort Inc. - (574) 202-7362
Jonesville

Way Back In Campground - (517) 849-0082
Kalamazoo

Klines Resort - (616) 649-2514
Kalkaska

Kalkaska RV Park & Camground - (231) 258-9863
Lake George

Lake George Campground, LLC - (989) 588-4075
Lawrence

Thunderbird Resort - (616) 427-7911
Ludington

Kibby Creek Travel Park - (800) 574-3995
Mackinaw City

Mackinaw Mill Creek Camping - (231) 436-5584
Tee Pee Campground - (231) 436-5391
Manistique

Driftwood Shores Resort and Campground - (800) 788-3111
Mancelona

Rapid River Campground & Cabins - (877) 246-2267
Marshall

Camp Turkeyville - (269) 781-4293
Mecosta

Shooltz'S Landing - (989) 382-5596
Middleville

Sharp Park Campground - (616) 795-3856
Milford

Camp Dearborn - (248) 684-6000
Mio

North Star Resort and Campground - (989) 826-3278
Monroe

Camp Lord Willing Management RV Park & Campground - (734) 243-2052
Shady Creek RV Park & Campground - (734) 243-2052
Morley

Mecosta Pines Campground - (231) 856-4556
Moscow

Moscow Maples RV Park - (517) 688-9853
Munising

Wandering Wheels Campground - (906) 387-3315
New Era

Holiday Camping Resort - (231) 861-5220
Stony Haven Campground - (231) 861-5201
Nottawa

Hidden Pond Campground and Resort - (269) 816-8684
Ottawa Lake

Covered Wagon Campground - (734) 856-3058
Pentwater

Whispering Surf Camping Resort - (616) 869-5050
Petersburg

Monroe County KOA Kampground - (800) KOA-7646
Totem Pole Park - (734) 279-2110
Petoskey

Petoskey KOA - (231) 347-0005
Pinckney

Hell Creek Ranch - (734) 878-3632
Port Huron

Sun Resort RV Park - (810) 987-3525
Rapid River

Whitefish Hill Mobile Home and RV Park - (800) 476-6515
Roscommon

Higgins Hills RV Park - (800) 478-8151
Sherwood

St. Joe River Campground - (800) 455-3973
Smyrna

Double R Ranch Resort & Golf - (616) 794-0520
St. Ignace

Lakeshore RV Park - (906) 643-9522
St Ignace / Mackinac Island KOA - (906) 643-9303
Sterling

River View Campground and Canoe Livery - (517) 654-2447
Tecumseh

Indian Creek Camp and Conference Center - (517) 423-5659
Three Rivers

Hidden Pond Campground - (269) 467-8684
Klines Resort - (269) 649-2514
Traverse City

Traverse City KOA - (800) 249-3203
Tustin

Cadillac KOA Kampground - (800) KOA-4072
Vassar

Wesleyan Woods Conference Center and Campground - (989) 823-8840
Waterford

Oakland County Parks and Recreation - (248) 858-4627
Wellston

Coolwater Campground - (231) 862-3481
Wolverine

Elkwood Campground - (877) 355-9663
Ypsilanti

Camp Sandusky - (734) 482-9336