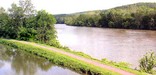 New Jersey's southern shore is home to not only beautiful ocean views, but also to attractions like the New Jersey Pinelands National Reserve, New Jersey Coastal Heritage Trail Route, Cape May, and the Great Egg Harbor River. The mix of natural scenery and unique attractions makes a perfect background for some of the most beautiful New Jersey Campgrounds.
Lake Laurie Campground
Just minutes from the breathtaking Victorian homes of Cape May and fun family attractions, the Lake Laurie Campground is packed with resort amenities. Swimming pools, private beaches, tennis courts, basketball courts, game rooms, and more make this an ideal choice for family camping.
The rates are reasonable for the area, ranging from $34- $45 per night, and various specials are available throughout the year. Activities such as hiking, biking, swimming, and boating can all be enjoyed while staying at Lake Laurie Campground.
Shorebirds Campground
Located close to the New Jersey shoreline, the Shorebirds Campground offers quiet living for those who wish to live in a more relaxed pace. There are only 66 sites available on this 28-acre campground, and there are hiking and biking trails intermingled in the woods that surround each site.
Tent sites are set at a rate of $20 for one person and $5 for each additional camper. RV site prices vary based on when you reserve them and where you would like to stay. While you can relax in this beautiful woodsy setting, you are also only 10 minutes away from all the boardwalks, amusement parks, fishing, crabbing, and other activities that Ocean City, NJ has to offer.
Shellbay Family Camping Resort
Close to Wildwood beaches and boardwalks, this family campground has all the frills needed to keep you busy while on vacation. Amenities include basketball and hockey courts, a recreation hall, playground, Laundromat, snack bar, and more. You may never want to leave this delightful spot once you experience the comfort that it offers.
Rates start around $37 for RV sites, and cabin rentals are available as well. The campground is only minutes away from many entertainment locations, and from the south New Jersey beaches and casinos.
Avalon Campground
Located between Wildwood and Atlantic City, this campground community is a perfect place to spend your extended vacation. With scheduled activities and amenities such as free Internet, two swimming pools, on-site trailer and cabins rentals, and more this busy campground is very family friendly.
A just minute from casinos, beaches, and boardwalks, the campground offers reasonable seasonal and non-seasonal rates to its campers. This is an RV only campground, and no tent camping is allowed, but you are free to rent one of their spacious cabins for your stay.
The southern shore of New Jersey is a popular vacation spot for many campers. There is no limit to the amount of fun and entertainment that can be found. The campgrounds located in this part of the state offer top-notch amenities and are great for both long and short term stays.
Ocean View
Ocean View Resort Campground











Only 3 miles to Ocean Beaches! Large wooded sites in a family oriented destination camping resort. - (609) 624-1675
Cape May

Holly Shores Campground
Email


















Near Victorian Cape May & Wildwood Boardwalk. Voted "Best Family Oriented Campground" in Frommers Guide with many amenities for you to enjoy! - (609) 886-1234
Cape May Court House

Big Timber Lake Camping Resort
Email












A friendly family resort located in the Jersey Cape. - (800) 542-2267
---
Andover

Panther Lake Camping Resort - (973) 347-4440
Barnget

Scrubbie Pines Family Campground - (609) 698-5684
Bayville

Cedar Creek Campground - (732) 269-1413
Blairstown

Triplebrook Family Camping Resort - (888) 343 CAMP
Branchville

Kymer's Camping Resort - (800) 526-2267
Buena

Buena Vista Camping Park, Inc. - (609) 697-2004
Cape May

Beachcomber Camping Resort - (609) 886-6035
Cape Island Campground - (800) 437-7443
Lake Laurie Campground - (609) 884-3567
Cape May Court House

Hidden Acres Campground - (609) 624-9015
North Wildwood Camping Resort - (609) 465-4440
Ponderosa Campground - (866) 465-7794
Chatsworth

Wading Pines Camping Resort - (888) 726-1313
Clarksboro

Timberlane Campground - (856) 423-6677
Cream Ridge

Laurel Pond Luxury Cabin & RV Resort - (609) 758-4635
Delaware

Delaware River Family Campground - (908) 475-4517
Egg Harbor Township

Sleepy Hollow Family Campground - (800) 272-1969
Elmer

Yogi Bear at Tall Pines Resort - (800) 252-2890
Green Bank

Belhaven Lake Resort & Campground - (609) 965-2827
Green Creek

Acorn Campground - (609) 886-7119
Hamburg

Beaver Hill Campground - (973) 827-0670
Jackson

Butterfly Camping Reasort - (732) 928-2107
Indian Rock Resort - (732) 928-0034
Tip Tam Camping Resort - (877) TIPTAM1
Montaque

Cedar Ridge Campground - (800) 813-8639
Ocean View

Frontier Campground - (800) 277-4109
Pine Haven Campground - (609) 624-3437
Shorebirds Campground - (609) 390-1276
Pilesgrove

Four Seasons Family Campground - (856) 769-3635
Sussex

Beaver Hill Campground - (973) 827-0670
Pleasant Acres Farm Campground - (973) 875-4166
Vernon

Toye's Recreation - (973) 209-7643
West Creek

Sea Pirate Campground - (800) 822-CAMP