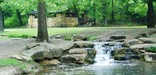 Oklahoma Campgrounds Offer Small Taste of Bigger Worlds
If you are the type of family who enjoys grand adventure then it's time to begin checking out a few Oklahoma's campgrounds. You will find all sorts of environments to explore and something exciting for all seasons when camping in Oklahoma. Keep reading to discover a small hint of the worlds you can explore while camping in Oklahoma.
Sand Dunes
Beaver Dunes State Park offers some amazing adventures for those looking for a great day of playing in the sand. Spend your days riding ATVs and dune buggies in the sand hills and your nights gazing at the stars. In addition to the sand you will find a nice lake that is known for its largemouth bass, perch, and channel cat.
Sand Dunes are rare enough that the experience can be quite fun for the entire family. Beaver Dunes offers 300 acres where you can enjoy your day in the sand. Remember the sun screen and slather it on before heading out to make sand castles of another kind.
Red Rock Climbing
Watch history come to life by camping in and around Red Rock Canyon. Don't forget to bring the camera and set aside time to sit around the campfire telling stories of the original trips out west. Hiking, climbing, and repelling are favorite activities here and the rich history makes it a great vacation spot to bring the kids camping.
Lake Loving
Those who love the water will appreciate Sequoyah Bay State Park. Camping is plentiful in and around this great park and entertainment options are virtually limitless. There is plenty of fun to have on the lake including boating, skiing, fishing, and swimming. There are also plenty of nature trails, playgrounds, volleyball courts, and other great ways for the family to spend some quality time together.
It doesn't matter if you derive your pleasure from water, rock, sand, or a combination of the three. Oklahoma campgrounds provide the perfect opportunity to explore them all in grand fashion and along with the people you love most.
Ada

Twin Lakes RV LLC - (580) 436-3800
Antlers

K River Campground and RV Park - (580) 298-2442
Bartlesville

Riverside RV Resort & Campground - (888) 572-1241
Castle

Last Chance Ranch RV Park And Campground - (918) 623-0404
Checotah

Checotah/Lake Eulaula West - (918) 473-6511
Choctaw

KOA - Oklahoma City East - (405) 391-5000
Eufaula

Happy Hollow Park and RV Sales - (918) 473-5450
Gore

MarVal Family Camping Resort - (918) 489-2295
Grand Lake Towne

Water's Edge RV & Cabin Resort - (918) 782-1444
Grove

Bear's Den Resort - (918) 786-6196
Lee's Grand Lake Resort - (918) 786-4289
Hochatown

Secluded Acres RV Park - (817) 909-9767
Marietta

KOA - Ardmore/Marietta - (580) 276-2800
Muskogee

Meadowbrook RV Park - (918) 681-4574
Oklahoma City

Rockwell RV Park - (405) 787-5992
Ringold

Family RV Paradise - (580) 876-3514
Sallisaw

Sallisaw KOA - (918) 775-2792
Sand Springs

Oak Tree RV Park - (918) 406-3334
Spiro

Rockin' Horse RV Park - (918) 962-2524
Stillwater

Cedarcrest RV Park - (405) 612-7310
Tulsa

Oak Tree RV Park - (918) 406-3334