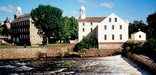 Rhode Island Campgrounds Are Hidden Gems
Do you love to camp but feel that there are few great Rhode Island campgrounds to choose from? This is far from the truth. Campgrounds in Rhode Island may not be lurking around every turn in the road but there are plenty of great camping opportunities to explore in the great state of Rhode Island.
State Parks
Rhode Island is home to a few state parks that offer camping opportunities to visitors. It is important to plan ahead and book early because there are so few when compared to other states. You should also check for specific requirements for camping rentals in various parks as some have fairly specific requirements for pitch size and minimum number of nights to book.
State parks are generally well protected and the facilities are well kept. For beginning campers, state parks can be the perfect launching point into a lifelong love of camping. You should also check to make sure that you are planning a trip when the park will be open for campers. While most parks are open year round they may have limited availability or specific seasons set aside for camping.
Some state parks accommodate tent camping as well as RV camping. Others only have space for RV camping. You need to be sure that you are making a reservation for the type of camping space that you are equipped to handle.
The state parks that offer Rhode Island campgrounds are: Burlingame State Campground, Charlestown Breachway, East Beach, Fishermen's Memorial State Park and Campground, and George Washington Memorial Camping Area.
Privately Owned Campgrounds
There are quite a few small private campgrounds sprinkled throughout the state of Rhode Island. These Rhode Island campgrounds allow visitors and residents alike the opportunity to get out and enjoy the great outdoors. Each campground will offer different amenities to visitors and vary widely in price and perks. It is a good idea to ask questions before you make a reservation at any of these parks and make sure you find out the specifics of the park requirements.
Like state parks, many privately owned campgrounds have a wide range of seasons. You will need to check with the Rhode Island campgrounds you are interested in visiting for any restrictions and dates that they are not open for visitors.
Don't be put off by the fact that there are fewer Rhode Island campgrounds than you may find in other states. There are plenty of great campgrounds to visit and enjoy in and around Rhode Island. Get busy planning your exciting camping trip to Rhode Island today.
Coventry

Hickory Ridge Campground - (401) 397-7474
Glocester

George Washington Camping Area - (401) 568-2013
Harmony

Holiday Acres Camping Resort - (401) 934-0780
West Greenwich

Oak Embers Campground - (401) 397-4042