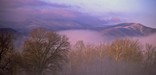 The state of Tennessee is a wonderful place to camp and experience the great outdoors. Whether you want to fish, hunt, hike, boat, or simply use the Tennessee campgrounds as your base camp while you explore the Volunteer State, there are campgrounds to accommodate all your preferences. Tennessee campgrounds are found near major cities like Knoxville, Johnson City, Chattanooga, Nashville, Jackson, Memphis, and many others. Tennessee's State Parks also offers a bevy of campgrounds.
Choosing campgrounds in Tennessee isn't difficult if you know what type of activities you want to include in your trip. By isolating your preferences you can choose campgrounds near your activity choices.
Campers will find a mixed bag of things to do in East Tennessee. East Tennessee campgrounds are perfect for campers who want to enjoy the great outdoors in the Great Smoky Mountains National Park. Camping in the Smokies is a great choice for people who like to hike, walk nature trails, tube the mountain streams, fish, visit historical communities, bicycle, watch wildlife, and more.
If camping in the mountains is a bit too rustic for you, there are many East Tennessee campgrounds in and around Knoxville, Chattanooga, and Pigeon Forge. Knoxville campers can enjoy the city's historic district, visit museums, take in sporting events, shop, or wile away their afternoons on the areas many lakes. Chattanooga campers can enjoy the city's railroad history and take a ride on the Chattanooga Choo-Choo, visit the Tennessee Aquarium, or visit scenic Ruby Falls, and Rock City. Campers around the city of Pigeon Forge can enjoy area attractions like Dollywood, water parks, music and comedy shows, museums, and outlet malls.
East Tennessee State Parks that offer camping include: Big Ridge, Cove Lake, Cumberland Mountain, Davy Crockett, Frozen Head, Harrison Bay, Hiwassee/Ocoee, Indian Mountain, Norris Dam, Panther Creek, Pickett, Roan Mountain, and Warriors' Path.
Middle Tennessee campgrounds are perfect for people who love country music, sports, golf, and history. Campers can enjoy shows at the Grand Old Opry, visit the Country Music Hall of Fame, or walk up-and-down Music Row. Sport fans can take in a day of golf or fishing before heading out to watch the NFL Tennessee Titans play ball. History buffs can visit the Jack Daniels distillery in Lynchburg, the Sam Davis House in LaVergne, Civil War sites, and The Hermitage.
Middle Tennessee State Parks that offer camping include: Bledsoe Creek, Cedars of Lebanon, David Crockett, Edgar Evins, Fall Creek Falls, Henry Horton, Montgomery Bell, Mousetail Landing, Old Stone Fort, Rock Island, South Cumberland, Standing Stone, and Tims Ford.
West Tennessee campgrounds are popular destinations for people who love music, water recreation, and history. Campers can enjoy water recreation on the Mississippi River, or the area's lakes. Music lovers can visit Sun Studios, Stax Museum of American Soul, Beale Street, and Elvis Presley's Graceland. History buffs can visit Civil War sites, Mud Island, the National Civil Rights Museum, and the Tennessee River Freshwater Pearl Museum.
West Tennessee State Parks that offer camping include: Bill Hill Pond, Chickasaw, Fort Pillow, Meeman-Shelby, N.B. Forrest, Natchez Trace, Paris Landing, Pickwick Landing, Reelfoot Lake, and T.O. Fuller.
Pigeon Forge
Clabough's Campground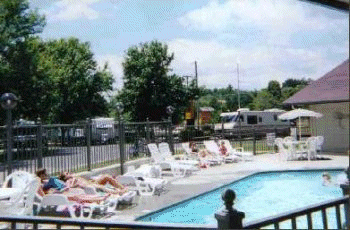 Clabough's Campground & Market is a family owned and operated business since 1978. You will be welcomed by a friendly and courteous staff, eager to make your visit a happy one that you will remember for years. - (800) 965-8524
King's Holly Haven RV Park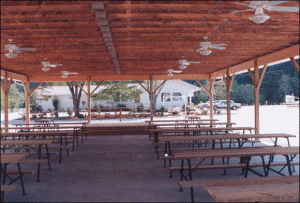 Email











The newest RV park in Pigeon Forge. Majestic view of nearby mountains. One mile off NE Parkway in Pigeon Forge, Trolley service to Pigeon Forge, and Dollywood. - (888) 204-0247
---
Blountville

Lakeshore RV Park - (423) 323-3506
Rockytop Campground - (423) 323-2535
Bluff City

Farmer's Bob's - (423) 538-8670
Bristol

Briston Campground - (423) 341-3022
Camden

Birdsong Resort & Marina $ Lakeside RV Campgrounds - (800) 225-7469
Castalian Springs

Shady Cove Resort & Marina - (615) 452-8010
Chattanooga

Raccoon Mountain Campground & RV Park - (423) 821-9403
Shipp's RV Center & Campground - (423) 892-8275
Clarksville

Clarksville RV Park and Campground - (931) 648-8638
Clinton

Fox Inn Campground - (865) 494-9386
Columbia

Campers RV Park - (931) 380=5516
Cornersville

Texas T Campground - (931) 293-2500
Cosby

Fox Den Campground & Motel - (423) 487-3178
Crossville

Ballyhoo Family Campground - (931) 484-0860
Deer Run RV Resort - (931) 484-3333
Meadow Park Lake - (971) 788-2034
Dandridge

Inspiration Point, Inc - (865) 397-2116
Decatur

Cottonport Fish N' Camp - (423) 334-4999
Del Rio

French Broad Outpost Ranch - (800) 995-7678
Dickson

Tanbark Campground - (615) 441-1613
Frankewing

Outback Hideaway Camping Resort - (931) 732-4297
Gatlinburg

Crazy Horse Campground and RV Resort - (865) 436-4434
Great Smoky Jellystone Camp-Resort - (423) 487-5534
Smoky Bear Campground - (800) 850-8372
Goodlettsville

Owl's Roost Campground - (615) 643-1900
Granville

Maple Grove Campground - (931) 653-4486
Greenback

Lotterdale Cove Campground - (865) 856-3832
Guild

Smith's Camp on The Lake - (423) 942-4078
Hartford

Fox Fire Camp & Canoe - (423) 487-4371
Jamestown

Cherokee Ridge Camp n Cabins - (931) 879-7696
Maple Hill RV Campground, Inc - (931) 879-3025
Jonesborough

Big Rock Campground - (423) 753-6670
Riverview Campground - (423) 753-2094
Kingsport

Bristol / Kingsport KOA - (423) 323-7790
Rock Springs Campground, LLC - (423) 349-5663
Rockytop Campground - (800) 452-6456
Knoxville

Jellystone Park - (800) 238-9644
Lake City

Mountain Lake Marina and Campground - (865) 426-6510
Lenoir City

Lazy Acres RV Park - (865) 986-3539
Manchester

Manchester KOA - (931) 728-9777
Myers Pond - (931) 312-9163
Midway

Banks Farms Campground - (423) 422-4163
Nashville

Countryside Resort - (615) 449-5527
Nashville Country RV Park - (615) 859-0348
Newport

KOA Newport / I-40 / Smoky Mountains - (423) 623-9004
Oliver Springs

Helton's RV Park and Campground - (865) 435-5221
Windrock Campground - (865) 435-3939
Pigeon Forge

Creekside RV Park - (865) 428-4801
Eagles Nest Campground - (865) 428-5841
Pikeville

Mountain Glen RV Park - (877) 716-4493
Piney Flats

Camp At The Lake - (423) 306-1492
Pulaski

TN Valley RV Park - (931) 363-4600
Roan Mountain

Doe River Primitive Campground - (423) 772-3137
Rutledge

CardNal Cove Resort - (865) 828-5300
Sevierville

River Plantation RV Park - (423) 429-5267
Riverside RV Park & Resort - (800) 341-7534
Spring City

Rhea Springs Campground - (423) 365-0705
Sweetwater

Sweetwater/I-75 KOA - (423) 213-3900
Townsend

Big Meadow Family Campground - (865) 448-0625
Little River Village Campground - (800) 261-6370
Misty River Cabins & RV Resort - (865) 981-4300
Mountaineer Campground - (865) 448-6421
The Lazy Daze Campground - (865) 448-6061
Unicoi

Grand View RV Park & Ranch - (432) 743-3382
Vonore

Little Tellico Campground - (423) 884-6378
Waverly

Tennesse River Mountain Getaways - (931) 296-7963