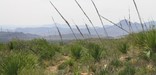 Enhance your vacation experience at the best tourist attractions in Texas by choosing Texas campgrounds over impersonal hotels for your lodging needs. Camping is less expensive than hotels and it offers another element to your vacation. You can rent an RV or a pop-up trailer with beds, kitchen, and bathroom facilities to make your outdoor experience homier, or rough it a bit and pitch a tent under the stars. Renting a screened or air conditioned shelter is another option you will find at Texas campgrounds – and all are typically cheaper alternatives than several days in a hotel.
The KOA Option
Kampgrounds of America or KOA, is a company that offers a system of campgrounds all across America and has been providing quality amenities and services to campers for almost half a century. KOA operates 23 Texas campgrounds in key tourist areas throughout the state so you likely will find one within a short driving distance to a number of major attractions. Sea World, the Alamo, and Six Flags Fiesta Texas are a short drive from the nearest KOA campground in San Antonio. The KOA site in the Texas Hill Country's town of Fredericksburg is just minutes from seven vineyards, multiple museums, restaurants, and art galleries, not to mention a wide variety of antique shops and flea markets.
KOA Texas campgrounds offers space for RVs and pop-up trailers in addition to shelters for rent and tent sites. Most locations offer wireless internet service if you simply must check your email from your laptop. Other amenities include swimming pool facilities and gas, electric and water hook-ups at the campsites. Depending on the campground location, you may have the option to rent bicycles, go fishing, soak in a hot tub, subscribe to cable television during your stay, or even sign up for planned activities or tours of the area.
The Parks Option
The state of Texas is larger than many countries in the world contains many landscapes such as deserts, plains, hills, beaches, canyons, caverns, rivers, lakes, waterfalls and much more. With state and national parks numbering over 100, there are a plenty of possibilities when it comes to Texas' campgrounds and this does not even include local, private, and county parks that may also offer camping accommodations.
Many of the parks are vacation destinations in and of themselves but they also serve as great home bases if your vacation targets are more of the tourist attraction variety. Texas' campgrounds offer a number of activities such as swimming, boating, hiking, star gazing, fishing, golfing, horseback riding, bird watching, geocaching, hunting, wildlife watching, and even caving. All of these activities are great additions to any vacation experience. Choose a Texas destination to visit and there are likely several nearby campground options to choose from, with the choice of activities at each being the deciding factor.
Virtually every major metropolitan area in the state has several Texas campgrounds within an hour's driving distance or less. Close proximity to numerous tourist destinations makes camping in Texas a great inexpensive lodging option with the experience of the great outdoors adding another dimension. When planning your next trip, check your state maps; your lodging accommodations are likely just minutes away from your next vacation destination.
ALAMO
Alamo Rec Veh Park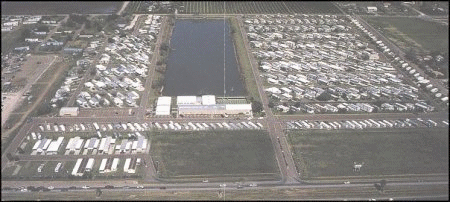 Email












Located in the heart of the Rio Grande Valley! Relax, Swim, Dance to your hearts content! We are just a short drive from all the Rio Grande Valley has to offer...local stores, restaurants, auto/RV supplies, major medical facilities and Mexico! - (800) 335-3131
ATHENS

Windsor Place RV Estates


Email















Windsor Place RV Estates located on the beautiful Texas Lakes Trail, the Gateway to East Texas. Open year around. Winter Texans Welcome - (903) 477-4001
BROWNSVILLE

Breeze Lake Campground


Email









Breeze Lake Campground & RV Park is a Winter Texan paradise. Our semi-tropical park offers a relaxed atmosphere filled with the shade and color of hibiscus and palm trees. Located on a small lake, or resaca, Breeze Lake Campground is cooled by Gulf of Mexico breezes and warmed by wonderful Texas sunshine. - (877) 296-3329

Paul's RV Park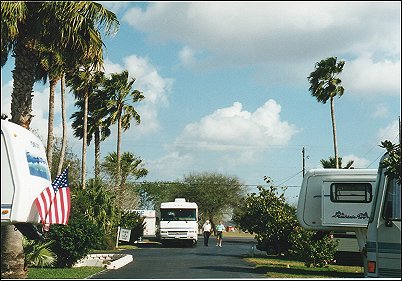 Email

- 15 SITES










Tropical Shaded with palms / bananas / lush green grass Day trips into Mexico - Birding Tours - Fishing - Golfing Rated 7.5 / 8.5 / 7 - (800) 352-5010
MISSION

Circle T RV Park


Email











Circle Ti is the Friendliest Park in the Valley...come join the fun! - (866) 428-5500
PERRIN

Mitchell RV Park



Email
















175 acre RV Resort. 19 fully equipped cottages. nine hole par 3 golf course. Bluegrass and Kite Festivals, Chili Cook-Offs, family reunion buildings and facilities. We have 150 full hook-up sites. Many big-rig friends. - (940) 798-4615

SAN ANTONIO

Hidden Valley RV Park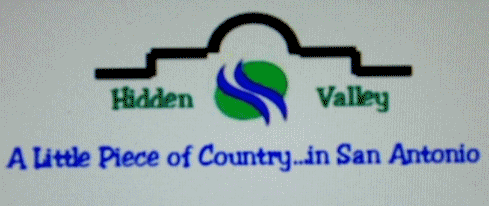 Email










A quiet county setting but only minutes from the city of San Antonio. Our facilities include a private creek, free wifi and laundry. - (210) 623-6737

CANYON LAKE

The Mermaid Cove
Email














RV, Cabins, Lodge & Campgrounds located on the Guadalupe River at the mouth of Canyon Lake. The most Quiet & peaseful hidden Cove. - (830) 885-4035
GEORGETOWN

East View RV Ranch
Email








Quiet, clean & relaxing park. Family owned and managed. Onsite Laundry, Pet Friendly, Small Rec Room and Free WI-FI. - (512) 931-2251

MINEOLA

Somewhere RV Park & Resort
Email














Perfect location, 1 mile east of historical Main Street City of Mineola. 34 level pads spread over 5 wooded acres with 40 x 500 common area for pets, socializing, etc. Phase 1 nearly done; Phase 2 includes swim pool, hot tubs, more. Disc rates til Phase 2 complete! - (903) 569-5772
MISSION

Rio Valley RV Park
Quiet Park - 18 sites. Small Rec Hall, Showers, Laundry, Pet Friendly, Medical Centers, Shopping Malls, Restaurants, Grocery Stores, & Golf Courses within 10 Miles - (956) 581-8067
NEW BRAUNFELS

River Ranch RV Resort
Email















Experience the best!On the River, yet close to everything. Great river access for tubing,fishing, free WiFi, and cable TV. Don't you deserve it? - (830) 625-7788
WEST HOUSTON-KATY AREA

Cinco Ranch RV Park
Email





We are close to West Oaks Mall, Katy Texas and Katy Mills Outlet Malls. We have laundry facilities. - (281) 829-9099


---
Abilene

Abilene KOA - (5325) 672-3681
Adamsville/Lampasas

"Almost the Wilderness" Campground - (512) 768-3537
Alamo

Alamo Palms Mobile Park - (800) 780-7571
D&L RV Park - (956) 929-4154
Friendly Village - (956) 787-6068
Aledo

Cowtown RV Park - (800) 781-4678
Alpine

La Vista RV Park - (432) 364-2293
Alvarado

ABC RV Park - (800) 490-1875
Stewarts RV Park - (817) 783-3477
Alvin

Meadowlark RV Park - (281) 331-5992
Amarillo

Amarillo KOA Kampground - (806) 335-1792
Oasis RV Resort - (888) 789-9697
Overnite RV Park - (806) 373-1431
Amarillo RV Ranch - (866) 244-7447
Ames

Cedar Grove RV Park - (936) 334-0711
Angleton

Lighthouse RV Park - (979) 215-6187
Aransas Pass

Mobil Village Rv Park - (361) 758-8367
Ransom Road RV Park - (361) 758-2715
Arlington

Treetops RV Village - (800) 747-0787
Athens

Lake Athens Marina and Campground - (903) 677-8774
Staway RV Park - (888) 324-4477
Austin

Armadillo RV Park - (512) 266-9012
Austin Lone Star RV Resort - (800) 284-0206
Austin RV Park North - (512) 244-0610
Cottonwood Creek RV Park - (512) 858-0321
Highway 71 RV Park - (877) 321-7275
Idyll Glenn RV Park - (512) 267-0117, Ext 7
Hudson Bend RV Park - (512) 266-8300
La Hacienda RV Resort & Cabins - (512) 266-8001
Lake Travis Inn and RV Park - (800) 303-5401
Oak Forest RV Park - (800) 4RV-PARK
Royal Palms Manufactured Home & RV Community - (512) 385-2211
Sunset RV Resort - (512) 632-7878
Azle

Pecan Acres RV Park Inc - (817) 946-4862
Sportsman's Park RV Community - (817) 444-0922
Bacliff

Seabreeze R V Park - (281) 559-4557
Balmorhea

Saddleback Mountain RV - (800) 847-4398
Bandera

Pomarosa RV Park - (830) 796-4339
Skyline Ranch RV Park - (800) 267-1402
The Farm Country RV Park - (830) 589-2276
Yogi Bear's Jellystone Camp Resort - (830) 796-3751
Bastrop

Bastrop River RV Park - (512) 321-7500
By The Way Park - (512) 321-4404
Hwy71 RV Park - (877) 321-7275
The Hobo Camp - (512) 332-2267
The Oaks RV Park - (866) 757-OAKS
Baytown

Casa RV Park - (281) 420-0559
Beaumont

Boomtown USA RV Park - (877) CAMP-4-U-7
East Lucas RV Park - (800) 280-2579
Gulf Coast RV Resort - (409) 842-2285
Big Spring

Pioneer RV Park - (915) 267-7303
Texas RV Park of Big Spring - (800) 749-4898
Whip In RV Park - (915) 393-5242
Blanco

River Oaks Riverfront RV Resort - (830) 833-2322
Blessing

Chaparral RV Resort - (361) 588-7483
Boerne

Alamo Fiesta RV Resort - (800) 321-CAMP
Top Of The Hill RV Resort - (830) 537-3666
Bowie

Lazy Days RV Park - (940) 872-6944
Boyd

Boyd RV Park - (940) 433-9910
Brady

Hidden Haven RV Park - (877) 889-3630
Brazoria

KS and JS RV Park - (979) 798-2726
The Way Station RV Park - (800) 962-3118
Brenham

Artesian Park RV Campground - (979) 836-0680
Brookshire

Houston West RV Park - (866) 621-1899
Brownsville

Autumn Acres Resort - (956) 546-4979
Crooked Tree Campground - (956) 546-9617
Honeydale Mobile Home & RV Park - (956) 982-2230
Brownwood

Brownwood Shady Oaks RV Park - (325) 641-9321
Flat Rock Park - (915) 784-6730
Bryan

Marino Road RV Park - (979) 778-3767
Buchanan Dam

Beachcomber Park - (800) 379-3083
Buffalo

Hollandranch - (903) 322-1204
Burkburnett

Burkburnett RV Park - (940) 569-3081
Burleson

Mockingbird Hill RV Park - (877) 736-7699
RV Ranch - (888) 855-9091
Caddo Mills

Dallas NE Caddo Mills KOA - (866) DALLAS-1
Canton

Mill Creek Ranch RV Park and Cottage Resort - (866) 488-6020
Texas Log Cabin & RV Park - (903) 567-5886
Canyon Lake

Bunk Haus & RV Park - (888)-592-8199
Canyon Falls RV Park - (830) 214-3033
Maricopa Ranch Resort - (830) 964-3731
Riverside Resort - (830) 964-3629
Carrizo Springs

Brush Country RV Park - (830) 876-5583
Carrollton

Sandy Lake RV Park - (972) 242-6808
Carthage

Carthage RV Campground - (903) 693-6640
Green Acres Rv and Mobil Home Park - (903) 693-9338
Castroville

Castroville Regional Park - (830) 931-0033
Clarendon

Watson RV Park - (806) 874-3770
Cleburne

RV Ranch of the Cleburne - (817) 645-4148
Coffee City

Palestine Pines RV Park & Campground - (903) 825-1100
College Station

Holiday RV Park - (979) 693-8777
Columbus

Columbus RV Park and Campground - (800) 657-6108
Happy Oaks RV Park - (888) 838-2500
Comstock

Bakers Crossing on the Devils River - (915) 292-4503
Concan

Camp Riverview - (830) 232-5412
Parkview Riverside RV Park - (830) 232-4006
Conroe

Brown Road RV Park - (713) 823-3298
Havens Landing RV Resort - (800) 535-8351
Park on the Lake RV Resort - (888) 2RV-LAKE
Sunset Shores on Lake Conroe RV Park - (936) 890-1587
Texas RV Yards by Miner Investments - (501) 642-1779
The Country Place - (800) 360 - 2854
Corsicana

American RV Park & Sale - (888) 872-0233
Crockett

Crockett Family Resort - (936) 544-8466
Crystal City (San Antonio area)

Triple R Resort RV Park - (830-374-0400
Cut-N-Shoot

Country Place RV Park - (936) 164-2854
Del Rio

Lonesome Dove RV Ranch - (830) 774-1823
Dickinson

Adventure Out RV Park - (281) 534-1120
Dickinson Golf and Yacht Club - (281) 337-3031
Donna

Casa del Sol - (956) 464-2272
Victoria Palms Resort - (956) 464-7801
Eagle Pass

Weyrich Farm Mobilehome Park - (830) 773-6168
Edinburg

Green Haven Mobile Park - (956) 279-6699
Valley Gateway RV Park - (956) 381-1883
Emory

Lake Fork Ranch Resort - (903) 473-8784
Eustace

Town & Country RV Park - (903) 425-6400
Flint

Salina Bay Campgrounds - (903) 825-6230
Trails End RV Camp - (903) 825-1008
Fort Davis

Crow's Nest Ranch - (915) 426-3300
MacMillen in the Highlands RV Resort - (432) 426-2056
Overland Trail Campground - (888) 478-5267
Fort Worth

Circle H Campground - (940) 995-7057
Fowler's RV Park - (817) 236-6408
Frankston

Lake Palestine Campground & Lodge - (903) 876-2253
Fredericksburg

Fredericksburg RV Park - (866) 324-7275
Ganado

Shady Oaks RV Resort - (361) 782-7450
Garner

Back Acre RV Park - (940) 682-7701
Garrison

Twin Oaks RV Park - (936) 560-5207
Gilchrist

Rockys RV Park and Fishing Pier - (409) 286-2245
Glen Rose

Leslie's RV Park - (254) 897-2212
Tres Rios RV Park and Campground - (254) 897-4253
Gordonville

Gone Fishing RV Park - (866) 760-3474
Grandview

Eagle Ridge RV Park & Resort - (817) 866-3332
Gun Barrel City

LakeRidge RV Park - (903) 887-4212
Harlingen

Fig Tree Resort - (956) 423-6699
La Mirada Country Estates - (956) 428-1966
Palm Gardens - (956) 423-7670
Posada del Sol RV & MH Resort - (956) 423-3534
Sundance RV Village - (956) 423-8314
Henderson/Mt. Enterprise

Whispering Pines RV Park - (903) 898-2428
High Island

High Island RV Park - (409) 286-2294
Hitchcock

Sunset RV Park - (409) 986-1173
Hockley

Magnolia Country RV Park - (281) 356-7592
Hondo

Hondo Catfish Fishing Lake & RV Campground Park - (888) 454-FISH
Houston

Bass and Bay RV Park - (281) 339-1188
North Pines Mobile Home and RV Park - (713) 466-4151
Safari Mobile Home Community & RV Park - (281) 332-4131
Huntsville

Harmon Creek Marina & Resort - (936) 291-6404
Heartland RV Park & Antique Mall - (866) 439-0350
Jacksonville

Lazy Acres RV Park - (903) 586-9110
Johnson City

Miller Creek RV Resort - (830) 868-2655
Pedernales Hills Resort - (830) 868-7499
Roadrunner RV Park - (830) 868-7449
Jonestown

Mountain View RV Park - (512) 267-4974
Kerrville

Buckhorn Lake Resort - (800) 568-6458
Hilltop RV Park - (281) 385-6220
Kerrville KOA - (800) 562-1665
Kilgore

D & D RV Park & Catfish Farm - (903) 984-1207
Kountze

Indian Springs Campground & RV Park - (409) 246-2508
La Feria

Kenwood Plaza - (956) 797-1851
La Feria RV Park - (866) 523-3742
VIP RV Park - (956) 797-1043
Yellow Rose MH & RV Park - (956) 797-2726
Lampasas

"Almost the Wilderness" Campground - (512) 768-3537
League City

All Star RV Resort - (800) 385-9122
SAFARI Mobile Home Community & RV Park - (281) 332-4131
Leander

Sunshine RV Park - (512) 259-7200
Liberty Hill

Rio Bonito Cabin Resort & RV Park - (512) 922-3933
Livingston

Eagles Rest RV Park - (936) 398-2631
Llano

Llano on the River Fishing Camp - (915) 247-4877
Lone Star

Scenic View Motel Marina & RV Park - (903) 656-2272
Longview

Sally's Flea Market/RV Park - (903) 643-8462
Lubbock

Camelot Village - (800) 354-9230
Malakoff

Caney Cove on the Lake - (903) 489-0639
Mansfield

Texan RV Ranch - (817) 473-1666
Marble Falls

Sunset Point on Lake LBJ - (830) 798-8199
Turkey Bend RV Park and Storage - (512) 924-8124
Mathis

Lake Corpus Christi KOA Kampground - (512) 547-5201
McQueeney

Hot Shot's Waterfront RV Park - (830) 560-1673
Miami

Red Deer Park - (806) 868-3631
Midland

Midland RV Campground - (432) 697-0801
Mineola

Mineola Civic Center & RV Park - (903) 569-6115
Mineral Wells

Brazos River Rats - (940) 325-7218
Mission

Bentsen Palm Village Rv Resort - (956) 585-5568
J-Five RV Park - (956) 682-7495
Mt. Vernon

Harris RV Park - (903) 588-2855
Nacogdoches

Pineywoods RV Park - (936) 560-1287
New Braunfels

Hill Country RV Resort - (830) 625-1919
Landa RV & Campgruond - (830) 625-1211
Lazy L&L Campground - (830) 964-3455
Mountain Breeze Campground - (830) 964-2484
York Creek RV Park - (305) 304-2479
New Caney

Lone Star Lakes RV Park - (281) 399-8977
Newton

Artesian Springs RV Resort - (409) 379-8826
Whispering Creek RV Park & Motel - (409) 379-8400
Nocona

Nocona Hills Campground - (940) 825-3445
Oakwood

Buffalo RV Park & Campground - (903) 322-3854
Onalaska

Northshore RV Resort & Marina - (936) 646-3124
Oyster Creek

Oyster Creek RV Ranch, Inc. - (979) 230-9089
Palestine

Bar-S Ranch RV Camp - (903) 729-6975
'R' Place RV Park and Campgrounds - (903) 723-8887
Pampa

Red Deer Villa RV Ranch - (806) 669-1122
Port Aransas

Marina-Beach RV Resort - (830) 980-4260
On The Beach RV Park - (361) 749-4909
Pioneer Beach Resort - (888) 480-3246
Port Isabel

Outdoor Resorts - (956) 943-3131
Port Isabel Park Center Inc. - (956) 943-7340
The Traveler RV Park - (956) 943-3373
Port Mansfield

Bayview RV Park - (956) 944-2313
Ranger

RL RV Park - (254) 647-1730
Raymondville

South 40 RV Park - (956) 689-6209
Refugio

Refugio Lions RV Park - (512) 526-5337
Rhome

Lee's Country Campground - (817) 638-2530
Rio Hondo

Channelview RV Park - (956) 748-4745
Circle L Hideaway - (956) 748-3817
Diving Dolphins RV Park - (956) 748-2126
Hummingbird Cove RV & MH Park - (956) 245-1544
River Ranch Resort - (956) 748-2286
Sea-Way RV Village - (888) 748-7275
Twin Palms RV Park - (956) 748-2881
Rockport

Bahia Vista Waterfront RV Park - (800) 953-1226
Raintree RV Park - (361) 729-7005
Rusk

Country Estates RV Park - (903) 683-9684
Sam Rayburn

Rayburn RV Hideout - (409) 698-3137
San Angelo

Spring Creek Marina & RV Park - (800) 500-7801
San Antonio

Alamo River RV Ranch Resort - (800) RV-RANCH
Stone Creek RV Park - (830) 609-7759
San Benito

First Colony Mobile Home and RV Park - (866) 399-8595
Fun & Sun RV Resort - (956) 399-5125
Green Acres RV Park - (956) 399-3726
San Marcos

Canyontrail RV Resort - (512) 805-9988
Pecan Park - (512) 396-0070
Plum Creek RV Resort - (512) 396-8300
San Marcos Springs RV Park - (512) 754-7123
Sargent

Caney Creek RV Park - (979) 245-4735
Seguin

RiverShade RV Park - (800) 364-7275
Shepherd

Big Creek RV Park & Campground - (936) 628-2337
Stephenville

Plaza Mobile Home Park - (254) 968-3134
Sweetwater

Rolling Plains RV Park - (915) 235-1656
Streetman

Fisherman's Point Marina & Resort - (903) 389-5218
Tarpley

Caribbean Cowboy RV Resort - (830) 562-3233
Temple

Pecan Grove RV & Mobile Home Park - (979) 575-0520
Terlingua

Terlingua Ranch Lodge - (432) 371-2416
Terrell

Bluebonnet Ridge RV Park - (866) 419-0100
Shady Pines RV Park - (972) 672-7955
The Woodlands

Rayford Crossing RV Resort at the Woodlands - (281) 298-8008
Toledo Bend Reservoir

Bean's V.I.P. Campground - (409) 625-FISH
Trinity

Outback Campground - (936) 594-3961
Westwood Shores Marina Village Camping Club - (409) 594-3805
Tyler

#1 RV Park of Tyler - (903) 597-6966
AOK South RV Park - (903) 894-8282
Boynton RV World & Campground - (903) 509-2886
D & D RV Park & Campgrounds - (903) 984-1207
Lake Palestine Campground & Lodge - (903) 876-2253
Palestine Pines RV Campground & Marina Park Resort - (903) 825-1100
Trails End RV - (903) 825-1008
Uvalde

Quail Springs RV Park - (830) 278-8182
Victoria

Country Comfort RV Park - (361) 485-0224
Lazy Longhorn RV Park - (361) 485-1598
Vidor

Boomtown USA RV Resort - (409) 769-6105
Von Ormy

Hidden Valley RV Park - (210) 623-6737
Waco

I 35 RV Park - (254) 829-0698
Waskom

Miss Ellie's RV Park - (903) 687-3688
Weatherford

West End RV Park - (940) 682-4694
Weslaco

Pine to Palm Resort Park - (956) 968-5760
Whitney

Lake Whitney Marina @ Juniper Cove - (254) 694-3129
Willis

Convenience RV Park and Repair - (936) 273-4776
Winnie

9th St RV Park - (409) 296-9390
Trade days RV Park - (409) 296-3300
Winnsboro RV Park - (903) 342-3400
Winnsboro

9th St RV Park - (409) 296-9390
Zapata

Sunset Villa MH & RV Park - (956) 765-5105
Twin Coves Fishing Camp - (956) 456-1133