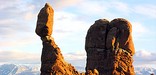 View Nature's Finest at Utah Campgrounds
When it comes to Mother Nature, the United States was blessed with a wide range of beautiful landscape to enjoy. Some of the most beautiful landscape in the country can be found in the state of Utah where you can enjoy glorious desert landscapes, beautiful mountain peaks, lovely woodlands, and countless other stunning views in between.
Utah is home to more than 7,000 improved campsites has nearly limitless opportunities for families interested in camping. There are campsites that are ideally suited for tents, RV Camping, scout groups, family camping, and cabin camping scattered throughout the state.
More importantly there is a wide range of camping available to Utah campers. You can choose camping in the desert, camping in the mountains, cabin camping, camping so far off the beaten path you can only get there by ATV, or simply counting in one of the national or state parks Utah has to offer.
In other words, there are plenty of opportunities for anyone interested in camping when it comes to Utah campgrounds.
If you want to make the most of your camping experience when it comes to camping in Utah it helps to decide what you are interested in doing and seeing while camping and what temperatures you find comfortable for trekking around in the great outdoors. There is a wide range of activities that will appeal to different types of people and families.
If you want adventure, it could found while mountain climbing, rappelling, snowboarding, or water skiing. We all have adventures we are excited to try with so many opportunities available for camping in Utah you have no excuse to keep putting it off.
If you prefer stargazing the desert provides some stunning views of the stars. Share the stars with your children or make a romantic escape of it and view the stars with your sweetheart. Desert camping also provides an opportunity to go rock climbing and view some stunning scenery like those in Bryce Canyon.
Water lovers will find plenty to enjoy about Lake Powell, which offers a massive amount of shoreline and plenty of canyons and hideaways to explore. While many people only know about one lake in Utah there are quite a few great lakes to explore and enjoy for those who enjoy water activities as well as fishing.
Salt Lake City
Pony Express RV Resort
Email













Beautiful,new RV Resort. 175 siteswith full hook-up,free cable,Wifi at every site, minutes from downtown SLC, incredible array of activities and sites worth seeing. - (801) 355 1550
Kanab

Kanab RV Corral
Email







Very clean park, all sites graveled. High speed internet wireless. Laundry, pool, modem hook-up and golf packages. Good Sam and AAA approved. Great base to discover beautiful Southern Utah. - (435) 644-5330
---
Altamont

L.C. Ranch - (435) 454-3750
Blanding

Blue Mountain RV Park - (435) 678-2570
Castle Dale

Castle Ridge Community - (435) 381-5167
Circleville

Circleville RV Park & Store - (435) 577-2437
Coalville

Holiday Hills RV Campground - (435) 336-4421
Delta

Antelope Valley RV Park - (435) 864-1813
Draper

Mountain Shadows RV Park - (801) 571-4024
Fountain Green

Burns Bro. Ranch & RV Resort - (435) 445-3303
Garden City

Fays RV Park - (801) 775-8717
Hanksville

Jurassic RV Park & Rock Shop - (877) 542-3433
Hatch

Riverside Resort & RV Park - (800) 824-5651
Kanab

Hitch-N-Post CampGROUND- (800) 458-3516
Hurricane

Brentwood RV Resort - (800) 447-2239
Leeds

Leeds RV Park & Motel - (435) 879-2450
Zion West RV Park - (435) 879-2854
Marysvale

South-Forty Rv Park - (435) 326-4404
Moab

Archview Resort and Campark - (800) 813-6622
Canyonlands Campground - (800) 522-6848
Moab KOA Campground - (435) 259-6682
Portal RV Park & Fishery - (435) 259-6108
Monroe

Mystic Hot Springs - (435) 527-3286
Monument Valley

Gouldings Camp Park - (435) 727-3235
Ogden

Century Park - (801) 731-3800
Panguitch

Hitch-N-Post Campground - (800) 282-9633
Perry

Brigham City KOA - (435) 723-5503
Salt Lake City

Camp VIP - Recreational Vehicle Park - (801) 328-0224
St. George

Temple View RV Resort - (800) 776-6410
Torrey

Thousand Lakes RV Park - (800) 355-8995
Virgin

Zion River Resort RV Park & Campground -(800) 838-8594
West Jordan

Outdoors In Utah -(801) 982-7834
Zion National Park

Zion's Mukuntuweep RV Park & Campground -(435) 648-3012