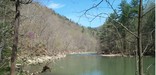 West Virginia's campgrounds are located near most major cities such as Charleston, Clarksburg, Fairmont, Parkersville, and many others. Activities abound in West Virginia. The campgrounds that will attract you will be the ones that are near the activities you want to participate in—and the areas you want to explore.
West Virginia's campgrounds in the New River/Greenbrier Valley attract campers who want to enjoy the great outdoors. This area offers rock climbing, white water rafting, the Allegheny Mountains, and Scott Hollow Cove, the Lost World Caverns, Pipestem Resort State Park, and many other attractions.
Campgrounds in the West Virginia Metro Valley are perfect for campers who love the arts, history, and outdoor recreation. Campers can visit Cultural Center, Huntington Museum of Art, watch glass making at Pilgrim Glass, and the Collis P. Huntington Railroad Historical Society New River Train Excursion. History buffs will enjoy Grave Creek Mound Historic Site, an ancient Indian site, as well as Point Pleasant and the West Virginia State Farm Museum. Outdoor enthusiasts will find plenty to do at Beech Fork, Cabwaylingo, Kanawha and Easy Lynn Lake.
The region of West Virginia known as the Mid-Ohio is very scenic and popular among campers who love history and the outdoors. Campers can visit Parkersburg, home of the gas and oil boom in the 19th Century. They can take a boat ride back in time to the 18th Century as they visit Blennerhassett Island. Antique and collectible lovers will enjoy visiting the Pleasant Valley Trading Company. Those in the mood for fishing will enjoy the water at Willow Island Lock and Dam, Palestine Fish Hatchery, and Middle Island Creek. Families will enjoy outdoor recreation at Mountwood Park and at North Bend State Park and Rail Trail.
West Virginia's campgrounds located in the Mountain Lakes region live up to the region's name. This is a great region for everything water related—boating, swimming, fishing and more. Water sports and recreational activities abound at Gauley River National Recreation Area, Holly River State Park, Cedar Creek State Park, and the West Virginia Wildlife Center at French Creek.
The Mountaineer Country is a region of West Virginia that gives campers a bit of the past and present. History buffs will enjoy West Virginia Independence Hall, Pricketts Fort State Park, Fort New Salem, and Watters Smith Memorial State Park. Those into modern culture will enjoy the Wheeling Island Greyhound Racetrack & Gaming Center, and the Wheeling Symphony Orchestra.
The Potomac Highlands is the region of West Virginia that runs along the Allegheny Mountains. Campgrounds in this area are near wilderness areas, national and state forests, and historical Civil War areas. Campers can visit the George Washington and Jefferson National Forest, Blackwater Falls, Watoga, Dolly Sods Wilderness Area, Harpers Ferry, Snowshoe Mountain, Lost River State Park and many other locations.  
Baker

Branch Mountain Campground - (304) 897-6394
Beckley

Shady Rest Rv Park - (304) 763-4832
Bowden

Alpine Shores Campground - (304) 636-4311
Revelle's Campground - (304) 636-0023
Danville

Hatfield McCoy Outdoors - (304) 369-6507
Dunmore

White Oak Village - (304) 456-4949
Durbin

Eastfork Campground - (304) 456-3101
Elk Garden

Abrams Creek Retreat & Campground - (703) 328-1840
Fayetteville

Rifrafters Campground, Inc. - (304) 574-1065
Gauley Bridge

New River Campground, Inc. - (800) 540-9352
Gilbert

Twin Hollow Campground - (304) 664-8864
Fayetteville

New River Gorge Campground - (304) 658-9926
Rifrafters Campground, Inc. - (304) 574-1065
Harpers Ferry

Harpers Ferry/Washington DC NW KOA - (800) 562-9497
Hillsboro

HCS Campground - (302) 286-0557
Milton

Jims Camping - (304) 743-4560
Parsons

Five River Camp Ground - (304) 478-3515
Pentress

Indian Meadows Recreation Park - (304) 879-5526
Sandyville

Ruby Lake Park - (304) 273-3427
Spencer

Horse of a Different Color Ranch - (304) 655-8818
Statts Mills

Statts Mills RV Park - (304) 373-0030
St. Marys

Wrights Riverview Campground - (304) 684-2850
Summersville

Mountain Lake Campground - (304) 872-6222
Summersville Lake Retreat - (304) 872-5975
Surveyor

Lake Stephens - (304) 934-5322
Verner

God's Wilderness Campground - (304) 583-2825