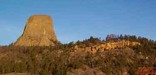 Yellowstone National Park, which is primarily located within the state of Wyoming, is an extremely popular travel destination. With attractions such as Old Faithful, hot springs, the Grand Canyon of Yellowstone, and abundant wildlife, it is no wonder that people from around the nation flock here every year. There are many Wyoming campgrounds found near Yellowstone National Park, with a host of amenities and settings to meet every camper's needs.
Slough Creek Campground
This rustic campground is actually located within Yellowstone National Park, and is two hours away from Old Faithful. The rates are modest at $12 per night, but the amenities are quite modest as well.
There are 28 sites available at Slough Creek, and they come equipped with pit toilets, drinking water, and grills. Tent and RV camping are allowed and wildlife like bison and bears can be seen from your campsites. Activities offered include hiking, fishing, and wild life viewing.
Lewis Lake Campground
The Lewis Lake Campground is also located within the Yellowstone National Park, near its south entrance. This campground offers 85 sites with restrooms, tables, grills, water access, and more. The rates are low at $12 a night, and RVs are permitted.
Activities available at this campground include hiking, fishing, boating, and kayaking. This site is opens starting in mid-June however, so you will need to consider that when making your reservations.
Canyon Campground
Near the Grand Canyon of Yellowstone this park campground is for those who require less rustic amenities. Unlike the others, Canyon Campground offers flush toilets, showers, dump stations, and generators are allowed. The extra amenities are available for only $18 a night, and both tent and RV camping is allowed.
This campground is only open from June until November, but the views from the campsites are worth arranging a stay during those times. Eat dinner at the campground restaurant, and then curl up for a night under the stars in this delightful location.
Flagg Ranch Resort
Located just two miles south of Yellowstone National Park, this wooded campground sits near the Snake River with views of the mountains surrounding it. Its close location to Yellowstone and its many amenities make reservations highly recommended.
Rates start at $25 per night and there are 166 sites available all year long. Laundry facilities, full hookups, hot showers, a gift shop, and dump station are just some of the amenities offered. Hiking, white water rafting, fishing, and horseback riding can all be done here as well.
Yellowstone Valley Inn and RV Park
For travelers who require all the luxuries of home, the Yellowstone Valley Inn and RV Park has what you need. This new RV campground has a fully staffed restaurant, saloon, dance hall, Laundromat, heated pool, and more.
There are 58 sites starting at a rate of $22 for tents and $35 for full RV hookups. All kinds of activities can be found here including horseback riding, white water rafting, boating, fishing, mountain biking, and trails for off-road vehicles. The views are beautiful with majestic mountains in every direction.
Yellowstone National Park is one of the nation's biggest tourist attractions, and draws thousands of travelers to its gates each year. Wyoming campgrounds both within and near Yellowstone provide you with the perfect opportunity to explore the park, and all of the natural wonders that it has to offer.
Alpine

Snake River Resort - (307) 654-7340
Buffalo

Buffalo KOA Kampground - (800) 562-5403
Deer Park Campground - (307) 684-5722
Indian Campground - (307) 684-9601
Casper

Casper KOA Kampground - (307) 577-1664
Cheyenne

AB Camping - (307) 634-7035
Cody

Cody KOA - (800) KOA-8507
Gateway Motel & Campground - (307) 587 - 2561
Devils Tower

Devils Tower KOA - (800) KOA-5785
Dubois

Dubois Wind River KOA - (800) 562-0806
Glendo

Glendo Lakeside RV Park - (307) 735-4161
Greybull

Campbell's Green Oasis Campground - (307) 765-2856
Jackson

Wagon Wheel Village - (307) 733-5406
Kemmerer

Foothills RV Park - (307) 877-6634
Lusk

Prairie View Campground - (307) 334-3174
Moorcroft

Rangeland Court Motel and RV Park - (307) 756-3595
Rawlins

A Western Hills Campground - (307) 324-2592
R V World Campground - (307) 328-1091
Riverton

Owl Creek Kampground LLC - (307) 856-2869
Wind River RV Park - (307) 857-3000
Sheridan

Big Horn Mountain KOA - (307) 674-8766
Peter D's RV Park - (307) 674-4613
Sundance

Hawken Ranch Vacations - (800) 544-4309
Thayne

Flat Creek R.V. Park & Cabins - (307) 883-2231
Thermopolis

Country Campin' RV & Tent Park - (307) 864-2416
Eagle RV Park - (307) 864-5262
Grandview RV - (800) 475-7230
Worland

Worland Cowboy Campground - (307) 347-2329
Yellowstone National Park

Fishing Bridge RV Park - (307) 344-7311