Eating in the great outdoors can be a challenge. Storing your food, keeping it cold and away from all the nosy little creatures is often more trouble than it's worth. But eating on a camping trip can be quick, simple and still very tasty.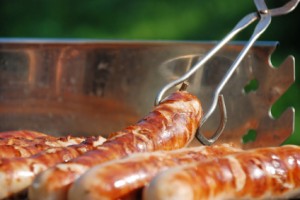 Buy a few essentials before hitting the road. Simple, everyday kitchen items such as aluminum foil, plastic wrap, and paper plates make meals on the go a breeze. Be sure to pick up a few garbage bags, too, in order to keep your campsite as tidy as you found it.
Pick up simple food items. Deli meats and cheeses keep well in a cooler full of ice, and fresh fruits and vegetables stay edible for days as long as they are cool. Canned chili, beans and soups also make for quick, easy and affordable camp meals.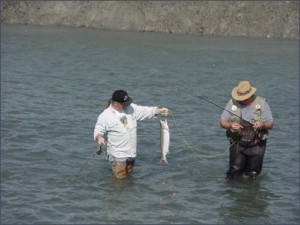 Cook simple meals while you're camping. After all, it is supposed to be a relaxing experience. If you like fish, put your pole to good use. Clean and fillet your fresh catch and lay it on a large section of foil. Add in a bit of onion, lemon, and a few veggies, and season lightly. Wrap the ends of the foil up and place it directly over your fire. In 20 minutes, you'll have the freshest food in the entire camp.
Sweet treats can also be simply accomplished over an open flame. Roll out a large sheet of foil on a flat surface. Add a layer of graham crackers on the foil, add a piece of your favorite chocolate (dark, milk or white work equally well), squish a marshmallow atop the chocolate, and finish off with another cracker. Cover with another piece of foil and heat until melted. For a festive holiday touch, crumble up a candy cane and add a bit to your S'mores.
Camping is a relaxing, enjoyable experience, and eating should follow suit. Keep it simple – eat, relax and enjoy!